Sofft

Sizes

Style

Gender

Colors

Reviews

Events

Prices

Made in USA

Popular Sofft Products

Search Within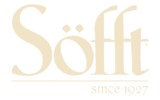 About

the

Sofft

Brand
Sofft Shoe Company is a leader in women's fashion. Sofft is dedicated to bringing women fashionable shoes that they want to wear and that won't hurt their feet. Sofft shoes are comfortable, a quality that is almost unheard of in the fashion world. By using state-of-the-art technology to make shoes more comfortable, Sofft has created a new category of footwear: fashionably comfortable shoes. Fashionably comfortable shoes give women what they want: comfort paired with sky-high style.
Verified Buyer

Reviewed by Event Planner Lorran from California on Thursday, November 17, 2016

These sandals are beautiful and very comfortable! I bought them to wear with dresses or pants at work.

Reviewed by Daniella from New Jersey on Saturday, November 5, 2016

Size up 1/2 size with these, but let me explain why I gave it 5 stars. These are pure leather uppers and insoles with a soft rubber outsole. I bought the black for my daughter who attends a prep school in Manhattan. I knew the size 8 would fit her because she owns this style in 2 other colors. You might ask why does she need 3 pairs of the identical shoe in different colors? Her school requires that the girls wear quote-unquote real footwear to class. This means they must be leather and they cannot have a heel of more than 1/2 inch. And my picky girl thinks ballet flats pinch her toes so does not want them. This particular pair of shoes fits the bill and is the only loafer that a teenage girl in 2016 deigns to wear. Trust me if you are in the same situation that you must wear real leather loafers, if you want a pair of these shoes. She has tried on every pair of loafers at the discount chains and this is it

Reviewed by CatherineS from California on Tuesday, September 27, 2016

I ordered this sandal in black. The sandals fit fine (true to size), the footbeds were well-cushioned, and they appeared to be good quality. My foot is a bit on the wide side and there was adequate room. However, they looked weird on my feet, perhaps because I am VERY pale. They might look great on someone with melanin.
Receive email updates for new Sofft items