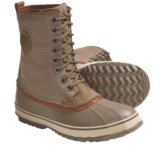 Closeouts. When it's snowy and cold and the going gets slick, you'll be glad you invested in Sorel's 1964 Premium T CVS pac boots -- super warm, super waterproof and styled like vintage Sorel predecessors in waxed canvas and vulcanized rubber.
Average Rating based on
62
reviews
4.322580
0
5
Reviewed by Nick Nack from SLC, UT on Sunday, February 9, 2014

Classic, and the most comfortable winter boot out there. I wear size 9 normally and had to order a size 10 to have enough room.

Reviewed by Charles from Dallas, Texas on Wednesday, February 5, 2014

Purchased these boots because even though I am in Texas, so far this year I have been stuck in snow & ice in Minnesota, Delaware, Pennsylvania, Maryland & Tennessee! These boots fit perfectly (and accurately) are exceptionally warm and look very nice. I wore them on the plane to the frigid locale and then during my trips. Perfect for what I was looking for.

Reviewed by Jack from Michigan from Michigan on Monday, February 3, 2014

I have not worn these boots in the snow yet, so I cannot give first hand experience as to their warmth and water-proofness. Being Sorels I am confident they live up to their reputation. My only complaint is their lacing. These boots could really benefit from speed lacing. I found the boots rather difficult to keep the laces tight as I laced them up. I normally wear an 8-1/2 D. The size 9 in these boots with a heavy wool sock fits perfectly.

Reviewed by Answergrape from Ohio on Wednesday, January 29, 2014

These boots appear to be well made and probably keep your feet warm -- provided you don't have high arches. The shape of the boot is not conducive to getting your foot in and out of it. The felt liner tends to crumple beneath as you try to get in -- and tends to pull out with your foot upon removal. It's a tight fit even 1/2 size up from normal. Then once on, the boot feels too loose. I ended up returning these for another Sorel model 1/2 size smaller than normal (10.5) with a lighter lining and that works just fine.

Reviewed by mike from chicago on Friday, January 24, 2014

these are great boots if your going to use them for shoveling snow, going to the store, etc. theyre very comfortable and somewhat easy to get on. the liner helps, but i wouldnt use them for a long period of time. true to size.

Reviewed by manuelinho from boston, ma on Friday, January 24, 2014

toasty toes

Reviewed by Chris from Massachusetts on Wednesday, January 22, 2014

Fits great lighter than the leather PAC boots. Worked all day in single digit temps. Feet stayed nice and warm. Great value. Thinking of getting a second pair for home. Strongly recommend them to anybody who spends time outdoors in the winter.

Reviewed by Jordan from Minneapolios on Tuesday, January 14, 2014

I am giving this a 4 start simply because they say they are rated to -40 below however after using them 4 times in the snow and ice while fishing my feet get very cold within minutes. I have boots that are rated to - 10 below that are just as warm. Additionally, the boots are hard to take off even when the laces are loose. The inner insulated insert keeps coming out of the boot. The back loop is useless. You would have to have the smallest fingers to use it. I would really would have liked a larger loop in the back.

Other than that the traction is great. They look very nice for a snow boot and they are very waterproof which makes this an excellent ice fishing and snow boot. Overall they are not perfect but I am happy. The price was amazing!



Reviewed by runner biker hiker from New Hampshire. on Saturday, January 11, 2014

Got these for my husband, he loves them. waterproof, warm, stylish enough for office work (if you live somewhere like NH where that's a-ok from Nov-April), comfortable.

Reviewed by Liz from Michigan on Tuesday, January 7, 2014

My boyfriend does not wear boots - through snow & rain - but the minute he got his feet into the Sorel CVS Pac Boot, he has not worn any other shoe. Which is great because we have had several inches of snow fall and the temperature has dropped well under freezing. His feet are dry & warm! We are happy!