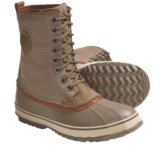 Closeouts. When it's snowy and cold and the going gets slick, you'll be glad you invested in Sorel's 1964 Premium T CVS pac boots -- super warm, super waterproof and styled like vintage Sorel predecessors in waxed canvas and vulcanized rubber.
Average Rating based on
62
reviews
4.322580
0
5
Verified Buyer

Reviewed by Adam from Washington on Tuesday, December 2, 2014

These boots are great! the waterproof canvas upper results in a lighter weight boot compared to leather but does not sacrifice protection from the elements. These boots tend to run about a size large, I normally wear 8s and the 7s fit great with a good pair of wool socks.

Reviewed by Johnny Law from Minneapolis, Minnesota on Wednesday, October 22, 2014

I live in Minnesota and last year we had the worst winter on record since the 1930's in terms of cold weather and snowfall. We had some 60 consecutive days of high temps below 32 degrees and about 30 of those days had highs below 0. I bought a pair of these boots last fall just before winter hit and wore them everyday from the first snowfall in November until the snow had melted in late April. My feet stayed warm and dry all winter. I take the bus to work in Minneapolis and these worked perfectly to commute into the office. I even took them far North and trudged around hiking in the North Woods for hours when it was -26 degrees out and the snow was very deep. Not a problem with these boots. While I had frostbite on my face and hands my toes were toasty warm. The construction is high quality and I am confident that they will last many years to come.

They do run a bit large and I had a tough time deciding whether to go with a size 13 or 14 - I usually wear size 14 shoes but these boots looked massive when I tried them on. I went with the 13's and found that the insulating boot does loosen up even if it is tight at first.

Verified Buyer

Reviewed by Shoe tree expert from New York City/Vermont on Friday, October 17, 2014

I really like these boots. I spend time in both the dense city of New York and the rural mountain of Vermont and I find these boots to be capable of handling anything both places can throw at them. They are indeed waterproof and extremely warm. Never had cold wet toes with these. Also this model has a smaller footprint than the Caribus or other Sorel winter boots and for a City Dweller like me, that is awesome. I also spend long periods of time in Northern Vermont and found these things to hold up quite well against any winter storm I encountered. I cannot attest to how long these will last since I haven't had them very long but based off previous pairs of Sorels I would guess at least 5 years up to 10.
I would highly recommend these if you live in a city and need something for when the bad weather hits, or if you live in a rural area where you want an everyday boot that will withstand the elements.

Verified Buyer

Reviewed by Dan the Man from New Jersey on Monday, October 13, 2014

When I received these boots from STP they far exceeded my expectations. They are incredibly well made and the fit was perfect. All ready for the predicted harsh winter!

Verified Buyer

Reviewed by Colorado tina from colorado on Wednesday, October 1, 2014

Very comfortable. Haven't had them in the mud, snow and cold yet, but looks like the will hold up.

Verified Buyer

Reviewed by Equip guy from Illinois on Friday, September 19, 2014

I opened the box and tried on my new boots. The fit for me was true to the size; I ordered them a little bigger (1/2 size bigger) so I could wear thicker socks and still have a little room and the size is perfect. I also like the looks of the waxed canvas which are supposed to be water 'Proof". Can't wait for the cold and snow to come!

Verified Buyer

Reviewed by snownerd from Juneau, AK on Thursday, June 12, 2014

The classic old Sorel is back; simple and warm, with the soft rubber ripple sole that gives the best traction on ice! Just as warm as the fancier newer models, for less.

Reviewed by Greg the cloner from Colorado on Monday, March 31, 2014

These *do* run large! I usually wear 12 but went down to 11 for these boots.

Reviewed by LauraB from Minnesota on Saturday, March 15, 2014

My husband ordered a 12 and usually wears an 11 or 11.5 in shoes. Wanted something a little bigger to help keep his feet warm. The boots are not a 12 - they run small. We would have returned them if we had bought them in a store.

Reviewed by Michael from Maryland on Monday, February 24, 2014

My feet stay warm and dry in slushy conditions. Lot of traction. Pull socks down a bit and need to order half size up.

Reviewed by Nick Nack from SLC, UT on Sunday, February 9, 2014

Classic, and the most comfortable winter boot out there. I wear size 9 normally and had to order a size 10 to have enough room.

Reviewed by Charles from Dallas, Texas on Wednesday, February 5, 2014

Purchased these boots because even though I am in Texas, so far this year I have been stuck in snow & ice in Minnesota, Delaware, Pennsylvania, Maryland & Tennessee! These boots fit perfectly (and accurately) are exceptionally warm and look very nice. I wore them on the plane to the frigid locale and then during my trips. Perfect for what I was looking for.

Reviewed by Jack from Michigan from Michigan on Monday, February 3, 2014

I have not worn these boots in the snow yet, so I cannot give first hand experience as to their warmth and water-proofness. Being Sorels I am confident they live up to their reputation. My only complaint is their lacing. These boots could really benefit from speed lacing. I found the boots rather difficult to keep the laces tight as I laced them up. I normally wear an 8-1/2 D. The size 9 in these boots with a heavy wool sock fits perfectly.

Reviewed by Answergrape from Ohio on Wednesday, January 29, 2014

These boots appear to be well made and probably keep your feet warm -- provided you don't have high arches. The shape of the boot is not conducive to getting your foot in and out of it. The felt liner tends to crumple beneath as you try to get in -- and tends to pull out with your foot upon removal. It's a tight fit even 1/2 size up from normal. Then once on, the boot feels too loose. I ended up returning these for another Sorel model 1/2 size smaller than normal (10.5) with a lighter lining and that works just fine.

Reviewed by mike from chicago on Friday, January 24, 2014

these are great boots if your going to use them for shoveling snow, going to the store, etc. theyre very comfortable and somewhat easy to get on. the liner helps, but i wouldnt use them for a long period of time. true to size.

Reviewed by manuelinho from boston, ma on Friday, January 24, 2014

toasty toes

Reviewed by Chris from Massachusetts on Wednesday, January 22, 2014

Fits great lighter than the leather PAC boots. Worked all day in single digit temps. Feet stayed nice and warm. Great value. Thinking of getting a second pair for home. Strongly recommend them to anybody who spends time outdoors in the winter.

Reviewed by Jordan from Minneapolios on Tuesday, January 14, 2014

I am giving this a 4 start simply because they say they are rated to -40 below however after using them 4 times in the snow and ice while fishing my feet get very cold within minutes. I have boots that are rated to - 10 below that are just as warm. Additionally, the boots are hard to take off even when the laces are loose. The inner insulated insert keeps coming out of the boot. The back loop is useless. You would have to have the smallest fingers to use it. I would really would have liked a larger loop in the back.

Other than that the traction is great. They look very nice for a snow boot and they are very waterproof which makes this an excellent ice fishing and snow boot. Overall they are not perfect but I am happy. The price was amazing!



Reviewed by runner biker hiker from New Hampshire. on Saturday, January 11, 2014

Got these for my husband, he loves them. waterproof, warm, stylish enough for office work (if you live somewhere like NH where that's a-ok from Nov-April), comfortable.

Reviewed by Liz from Michigan on Tuesday, January 7, 2014

My boyfriend does not wear boots - through snow & rain - but the minute he got his feet into the Sorel CVS Pac Boot, he has not worn any other shoe. Which is great because we have had several inches of snow fall and the temperature has dropped well under freezing. His feet are dry & warm! We are happy!

Reviewed by John from NYC on Monday, January 6, 2014

The boots are very warm and comfortable to wear but when the inserts are taken out the boot is way to big. Also it seems like the stitching on the heel of the insert isn't the best quality. I am worried that threw the process of putting the insert into the boot the heel of the insert may wear out very quickly.

Reviewed by Nor_ Cal disc golfer from Nor Cal on Monday, January 6, 2014

These boots fell apart after just 4 days.

Reviewed by wmck from Denver, Colorado on Thursday, January 2, 2014

I typically wear a wider shoe - if I get one that is available in widths, I wear a 10.5. For this boot, I ordered an 11 to be sure it would be wide enough for me. With the wool liner, it's perfect and quite comfortable.

This boot is a lot bigger than it looks in the pictures. The ankle portion is almost too big to put under a straight-leg pant, but I usually tuck my jeans into the top.

To make it easier to take on and off, I actually just leave the laces knotted at the end. This allows the boot to be pretty "relaxed" so I don't have to constantly tighten and slacken the laces to put the boot on/take it off. If I need it to be sealed up, then I will tie it. But for just trudging around in the snow, I leave them untied.

I also love the idea of the removable, washable liner. Too many winter boots have liners that start to smell after time.

Reviewed by kdog from Arizona on Wednesday, January 1, 2014

these are very nice boots unfortunately they were a bit too small for my husband and I had to return them

Reviewed by M Coop from Vermont on Tuesday, December 31, 2013

Bought these for my son who works 12 hour shifts in snowmaking for a ski area. These, combined with his gaiters, keep his feet warm and dry all shift! Love Sorels and the Sierra pricing!!!

Reviewed by DPGB from Wisconsin on Thursday, December 26, 2013

These were a very good value with the discount sale price. Nice sturdy boot--fit runs a bit small so you may want to order up a size if you have a wide foot. Good vintage styling in a warm boot. I have worn these to Green Bay Packer football games at Lambeau Field in December and they did the job well--just wish they were still made in Canada instead of China.

Reviewed by Best Sister from Massachusetts on Wednesday, December 18, 2013

Very nice boots. I bought them as a Christmas present and I am very happy with them. Sierra has great products and they are very fast with shipping.

Reviewed by Geofflad from New York on Tuesday, December 10, 2013

Very cool-looking and a nice fit!

Reviewed by Stephanie from mtbsteph on Thursday, December 5, 2013

my brother in law is going to love these. Perfect for winters or take out the liner and rain boots in the summer!

Reviewed by Trail Titan from MO on Sunday, December 1, 2013

Excellent boot! Very warm, nice style, keeps feet dry and at a fantastic price. Bought for my son in college and he loves them. Considering buying a pair for myself.