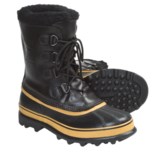 Closeouts. Sorel's Caribou Wool pac boots add a felted wool inner boot and a full-grain leather upper to this classic model. The removable 9mm felted wool inner boot and vulcanized rubber shell make the Caribou capable of handling the most severe winter conditions.
Average Rating based on
17
reviews
4.352941
0
5
Reviewed by Buddur from W PA on Saturday, January 25, 2014

I purchased these boots to replace my old pair (same boots 17 years old) which I finally wore the soles out. I liked my old pair so much that I never thought about purchasing another kind. These are simply my kicker-do-everything-outside-the-house winter boots. My old pair had brown nubuck uppers which would absorb moisture (but never got my feet wet), whereas this pair has black leather which is noted as making the entire boot waterproof. The interior has enough foot room that makes the boot fit much better with thick winter socks. Lacing is easy... just pull laces up, move your foot up and down to cinch and remove any slack, and tie. And they are very comfortable around the ankle when tied tight. This is simply an old-school construction boot that has shown to be reliable through time, imo, and this pair fits and feels just as good as my old ones.

Reviewed by American Farmer from Bountiful, NW on Monday, January 13, 2014

Warm but leak when it is wet out! Fine as long as everything is frozen. One boot leaked from the bottom of the sole first time walked through a shallow puddle. That happened in the first month. Now after 2 months the top of the other boot has developed a hole. A pair of non-Sorels I had before this lasted for several years and my son wore them some as well. I thought with Sorels I would for sure have warm, dry feet. What a disappointment!!!

Reviewed by Winter lover from Maryland on Sunday, December 15, 2013

Amazing bad weather boots! True to size, super warm and comfortable! Perfect for shoveling snow!!

Reviewed by Heather from Washington on Tuesday, December 10, 2013

Bought as a gift. They have worn several times so far...Love them. Warm and great quality!

Reviewed by rewader from CA on Monday, November 11, 2013

haven't tried them yet, but the fit is good and, the quality seems typical Sorel, i.e., very good. if the material is up to usual Sorel standards, (Sorel is manufacturing out of China these days), they should last a long time.

Reviewed by Warm Toes from Alaska on Sunday, November 3, 2013

Great boot with good winter tread. The sizing does not seem as off as I have seen posted in other reviews. I wear an 8.5 and the 9 seemed right on for me prior to the break in of the liner. I find them great down to about 10 below for extended time outdoors with activity.

Reviewed by dilitant from New York on Monday, October 28, 2013

I bought these for my 13 year-old son. I saw some reviews saying this boot ran large, but I ordered a size 10 (my son wears a 9 1/2) and they are perfect. The boots were a little tricky for my son to put on since the boot is pretty high (I would have taken a 1/2 star off for that, but you can only take off a full star and this issue isn't that bad and may not even be an issue for an adult), but he loved them once he got his feet in and said they were super comfortable. We haven't tried them in the snow yet, but these look and feel like serious boots for serious cold and the quality is equal to the winter work boots my husband wears that cost $600. With a 30% off coupon and a kid with feet that don't ever seem to stop growing, they were a no-brainer. We ordered a pair from Lands E*d first - they cost the same as the Sorels and there is no comparison between the two. The Sorels look better, feel better, have higher quality materials, and are far warmer (I know because I tried both pairs of boots on too). Highly recommend.

Reviewed by rewader from ca on Wednesday, October 23, 2013

These boots are from the first company of pac boots. I will use them this winter. Though made in China now they look well-made. We'll see how the material holds up. Especially interested in the longevity of the rubber. For the light use I'll be giving them, I'm hoping for at least 4-5 years.

Reviewed by Dwight from Iowa on Tuesday, October 8, 2013

Can't fully evaluate these until the snow and cold hits, but can comment on sizing. I usually wear an 8, but ordered a 7 after reading reviews that these ran large. The 7s fit with normal thickness socks (cotton athletic socks), but thicker socks result in too tight of a fit. I'm keeping them since I'll happily wear them with the normal athletic socks, or even thin liner socks. They seems like well made boots, we'll see in a few months...

Reviewed by City Kid from Denver, CO on Friday, October 4, 2013

I ordered these boots and I got them in 2 days. My rating is based on shipping and basically look and feel of the boots. They feel great. I tried them on at a store before I bought them online. I normally wear 10.5 or 11 depending on the shoes. These Sorels I bought are a size 10 and they are perfect with my thick wool socks. They look great. I haven't worn them outside yet as it haven't snowed.

I read a lot of reviews about Sorels being made in China now instead of Canada. And that the quality isn't that great. They look and feel great. I like them better than the Columbia's that I gave away because they didn't keep my feet warm.

So far so good!