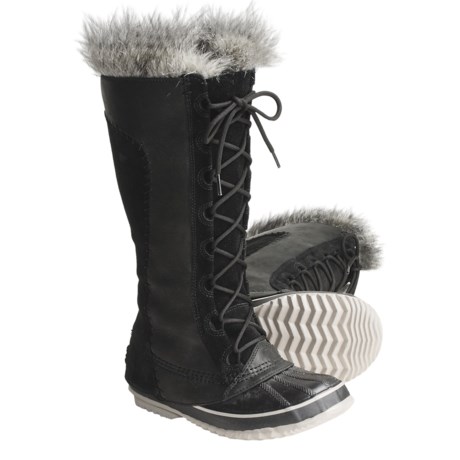 Great FIT (and I wear a half size)!
Reviewed by a picky but very happy shoe buyer from New Hampshire, USA on Sunday, November 25, 2012
I wear a half size (5.5) and my feet are slightly wide (I don't require wide-widths but have difficulty with many regular width shoes) and my feet are actually two different sizes (the smaller one is a true 5). I normally won't even buy shoes online because I really have to try them on because one of my feet is always unhappy and I have to decide which one it will be. I remembered reading somewhere to go a size down for half sizes. I knew it was a roll of the dice, but I gave it a try. I bought the size 5.

When the boots arrived and I first put my feet in them I was worried because my larger foot (the slightly wide 5.5) was feeling pretty pinched on the side toward the front of my foot (my sock was getting pulled back over my toes). After worrying about it for a few weeks, and hearing that we are due for snow in a few days, I finally committed to putting the boots on to wear them around the house for a day. And I am SO GLAD I DID!

I love these boots. After one day of tromping around the house they feel great on my feet. Loosened up just enough to make them easy to walk around in. For the sturdiness and craftsmanship of the boot they are not as heavy as you would expect. Once they got really comfy I actually went down to my office to move a bunch of equipment and furniture around and I was comfortable, warm, and my feet were happy. Not at all awkward in an indoor environment (though they are clearly snow boots).

Today was also one of those northern days where an icy wind just rips through and like I said, I was nice and warm (and I'm always cold). Loving these boots. My first real pair of snow boots even though I have lived in snow land for several years, and I'm delighted with how well they fit.

For those who might wonder: I was not wearing thick wool socks, just regular women's knee socks (not dress socks). I can't imagine needing anything more (I'm not a big mountaineer or anything).
Most helpful negative reviews
Similar items and more information in the following areas: