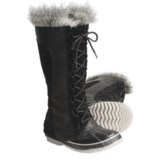 Closeouts. Sorel's Cate the Great pac boots offer waterproof warmth thanks to felt insulation, seam-sealed, waterproof vulcanized rubber construction and a full-grain leather and suede upper that offers serious style, warmth and weather protection.
Average Rating based on
409
reviews
4.449877
0
5
Verified Buyer

Reviewed by moutaingirl from Denver, CO on Tuesday, February 12, 2013

I love these boots! They are warm and comfortable but do not make your feet sweat.

I did have to order an entire size smaller than usual, but I am very happy with them!

Reviewed by Lillny from New York, NY on Tuesday, February 12, 2013

Soo, I am giving one star because they are super warm. The downsides: They cause blisters. If you don't wear thick socks, then you have to wear two pairs of thinner socks, otherwise you will end up having blisters on the back of your foot, or they are not going to be tight enough at the ankle part, which will also cause rubbing. They are not durable. Even with thicker socks I had to make them tighter at the ankle, but the things that hold shoe laces became weak and eventually broke and I've only had them for 3 months. It just made me very upset, and they are not cheap boots.

Verified Buyer

Reviewed by n/a from washington state on Tuesday, February 12, 2013

Love these boots! Havn't had good snow boots in years, cute yet practical. ORDER A FULL SIZE DOWN!! I wear an 8 running shoe. Size 7 Sorel boot is even a little big w/medium socks. Theyre not petite boots but they'll keep your feet warm and pretty!

Reviewed by blondie27 from Chicago, IL on Monday, February 11, 2013

I purchased my second pair of cate the greats from sierra trading post about a month ago. I normally wear an 8 shoe, but sized down to a 7, which is what I did with my first pair (also purchased from sierra trading post about 3 years ago). When I first put on the new pair I purchased I thought for sure they sent me the wrong size. They felt extremely narrow (I have a narrow foot), small, and so uncomfortable. I read some other reviews of people saying the same thing so I wore them for a few days around the house and sure enough, they stretched a bit with each wear and now they feel just like my 3 year old pair. These are incredibly comfortable boots. So warm. I wear them even when there is no snow because they are just too cute and keep my feet so incredibly warm and comfortable. Love the boots and love them even more with sierra's fantastic pricing on them. My older pair still look like they are brand new. I love them so much I wanted a new pair in a different color scheme. Worth every penny!!!

Verified Buyer

Reviewed by Debi the nature doc from Lake Tahoe, CA on Sunday, February 10, 2013

Still have my first pair of sorels from 18 years ago but was ready for an upgrade and a taller boot. Dry winter this year means haven't put them to the true test yet, but I am prayin' for more snow so I can go tromp through just about anything in these! These babies are WARM and GORGEOUS. I bought size 6 but normally am a 7. Fit perfect. ONE concern is the ankle region is somewhat "mushy," so need to lace tighter there. I hope they don't start slouching after a season...will update next year on that!

Verified Buyer

Reviewed by Cherry Court from Traverse City, MI on Sunday, February 10, 2013

These boots are so warm. I live in Northern Michigan where we have several feet of snow on the ground. I walk to work everyday and shovel snow in the evenings, and these boots keep my piggies toasty! Last week our high temperature was 10 and these boots did the trick. They are waterproof and are of quality construction. They're not messing around. And if that wasn't enough, they're cute. The stitching detail and fur at the top of the boot look nice with a tunic and leggings. Which is good, because sometimes I'm too lazy to change my shoes. Thanks Sorel! I knew you wouldn't let me down!

Verified Buyer

Reviewed by Burger from South Lake Tahoe, CA on Sunday, February 10, 2013

Really liked that is was not heavy and very comfortable. I could have fit in a half size smaller, but not a problem. I got may daughter a pair also, she really liked them also.

Verified Buyer

Reviewed by Terry from Northern NJ on Friday, February 8, 2013

These boots are very well made and cute. I receive compliments every time I wear them. The footbed is rounded and roomy to allow for a pair of thick socks. I was worried that the laces would make these boots cumbersome to take on and off, but the eyelets are designed for easy use and make these boots easy to put on and remove. One warning: these boots are VERY WARM. I find them too warm to wear indoors, so I may bring another pair of shoes to work to prevent my feet from overheating during the day.

Verified Buyer

Reviewed by Emily from Minneapolis, MN on Thursday, February 7, 2013

After reading the product description as well as a few other reviews, these boots were just what I wanted and expected. They are wider in general but for extra socks and padding this is not an issue at all. They were much lighter than expected based on some people's comments. They are boots, made of rubber and leather, they will have SOME weight to them, but they are great for warmth and walking and look great on.
I've already gotten a friend to purchase a pair!

Verified Buyer

Reviewed by Shoe-LOVER from St. Paul, MN on Thursday, February 7, 2013

LOVE these so much that I decided to buy a second pair. The first pair I bought a few years ago. Sorel didn't offer 1/2 sizes, so I went up to a 9 (I'm a 8.5) and they are HUGE. Although I love them, after a while they begin to rub due to the fact they are so big. These were at a great price I couldn't resist and am so GLAD I did. I got them in BLACK and am in LOVE. if you are between sizes, HIGHLY recommended that you go down a size.