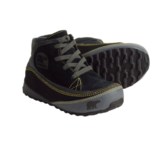 Closeouts. A laid-back look meets serious weather protection in Sorel's Chesterman chukka boots, featuring soft fleece insulation lining, a water-resistant leather upper, and a traction-enhanced rubber outsole for dependable grip on slippery and icy surfaces.
Average Rating based on
47
reviews
4.638297
0
5
Reviewed by Josh the urban dwelling outdoorsman from Chicago, IL on Tuesday, November 5, 2013

I bought these for my 5 year old for another winter shoe/boot. They're great. Lightweight, soft, comfortable and weather resistant. I'd recommend them to anyone. Good price too.

Reviewed by Katie J. from New York on Thursday, October 17, 2013

I ordered these boots for my sons. Upstate NY winters are hard. I liked the look of these because they are not as bulky as a traditional snow boot; perfect for wearing to school. Both my kids stated they were very comfy and warm. So far completely pleased.

Reviewed by Laura from Maine on Friday, September 27, 2013

These are some of the nicest, coolest, well made shoes/boots I have seen for kids. So sturdy and rugged, and as good as they look in the picture they are 10 times better in person! This is one of those rare occasions when ordering online when you are pleasantly surprised when you receive your order! I thought they looked small when I first saw them, but they seem to fit so I think that the wide style of the toe make them appear short. They look to be fairly weather proof, although not waterproof, but I'm sure they will keep out most of the elements. I bought them for fall and spring since we have serious winters here, but if yours are not then you could probably get away with using these in winter. They are perfect for school since they can run and play in them, but look sharp and not sloppy . The fleece lining is super soft and cozy, which makes them very comfortable and appealing for the kiddos. The styling is great, and the navy blue(not sure if they ever made a different color), match most of my 8 year old son's wardrobe. The only bad news is that there is only one size left at the moment, size 2, and after searching around the internet including the Sorel website, they don't seem to be making these anymore. So if you are lucky enough to need a size 2....don't miss out! I wish I could have bought a pair for my 3 year old too, but at least I will have his brother's hand me downs.

Reviewed by Robin from South Korea on Wednesday, August 14, 2013

I never write reviews, but felt the need to do so on these. I received them as a hand-me-down from my nephew, who wore then an entire year. We, in turn, also wore them for an entire year. You see, my 6 year old is rough on shoes and wears them out quickly. The toes on these shoes are indestructable and even wash well in the washer! They match virtually everything and are warm and comfy. The only reason we got rid of them was because they were too small, so I was desperate to find a new pair, and found them here and only here. Thanks Sierra Trading Post!

Reviewed by KC from Fox Island from Fox Island, WA on Thursday, July 11, 2013

I bought these for my 5 year old, who starts kindergarten in the fall. He loves them and says they are very comfortable. He hates trying on shoes but took to these immediately and wouldn't take them off. They seem to run big--he wears a 1.5 and at first, we ordered size 2 but they were huge. We sized down to a 1 and they fit with room to spare. They will fit great by fall/winter. I am ordering the same size for my big, wide-footed 4 year old as well. He wears a 13.5 but his foot is wide. These fit him well in the width and were not overly large. I do wish they were available in more color options. Overly, they are study and seem like they will be warm and hold up well.

Verified Buyer

Reviewed by Kathbmcclure from 462001 on Monday, January 28, 2013

Bought these for my 6 year old, and he LOVES them!

Verified Buyer

Reviewed by Happyshopper from Fort Drum NY on Tuesday, January 22, 2013

Bought these for my 8 yr old son and these boots are exactly what we needed for the weather we get here in Northern New York. They are warm, comfy and not all bulky like snow boots. Great for light snow, rain, and cold weather. We are happy with our purchase. This is the second time I order from this great company. Will continue to buy from them.

Verified Buyer

Reviewed by Lynee from Romeo, MI on Thursday, January 17, 2013

Bought these for a five year old boy.

Reviewed by sunflower from Iowa on Sunday, January 13, 2013

My son struggled to get his foot into the boot for over a month but he still loves them. As they have broken in that problem has gone away. If it is a design or construction flaw causing this it is a bug with a feature: once on the boot provides a lot of support and seals tightly. These boots are perhaps slightly heavier than a heavy pair of trail sneakers but they're insulated a bit and keep splashes out. These replace the sneaker in an Iowa winter for a schoolboy. In a pinch they'd suffice for snowboots. Neat product. Bought next year's for 2 bucks less than the current pair.

Replace the laces right off the bat with something round and slippery. The laces they come with have far too much friction against the soft material. Doing that fixes half the hard-to-get-on problem.

Verified Buyer

Reviewed by JB from Liberty, Missouri on Monday, January 7, 2013

Comfortable and warm they are a little hard to put on.