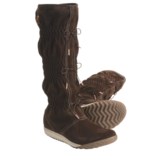 Closeouts. A fashionable boot with a durable traction outsole, Sorel Firenzy boots display an Italian-influenced design with a soft, water-resistant suede upper and on-trend styling.
Average Rating based on
99
reviews
4.454545
0
5
Reviewed by Yo-Yo from Detroit, MI on Monday, February 3, 2014

I love the boots. On Superbowl Sunday I got sooo many compliments. They are true to size. The are warm & comfortable.

Reviewed by Hobbitish from Upstate NY on Monday, January 27, 2014

I love these boots, but they are fashion boots only good for crossing short bouts of deep snow. I did spray mine several times and they've done well for trips to the store, etc. in my rural area. Nice and warm in the leg, decent in the feet, but I suspect your feet would get cold if you had to trek through deep snow in cold temperatures. They are very light.

They seem to fit true to size, but are very hard to get your feet into, particularly past the ankle area, and probably would not fit at all someone with heavy calves. I have a little extra room in the foot area but cannot wear heavy socks with them or I'd never get my foot in. The laces do provide a bit of cinching and help keep the boots up, but are mostly for show. Tall boots can get a bit scrunched-looking with wear — these are great because they're supposed to look that way!

Brown is a nice deep brown. They are excellent with skinny jeans; use stirrup elastics or socks over your pants or they'll ride up annoyingly when you put your feet in. I have gotten a lot of compliments with these boots so they're worth the hassle, but once I put them on I plan to wear them all day!!

Also, I bought them at less than half-price; I'd not pay full price for a boot like this unless it was MUCH sturdier.

Reviewed by Katie from PA on Wednesday, January 1, 2014

Great boots and fast shipping!!

Reviewed by shopperO44 from Chicago on Tuesday, November 5, 2013

These casual boots were nice, warm, and fit true to size. The quality of construction from this brand is reliable. However, it did not state in the sale description that the boots would be used. I was disappointed to discover I had bought preworn footwear. Exactly not what I was expecting when I opened the box. A disclaimer at online checkout would have been more considerate of customer service.

Reviewed by AZ hiker from Scottsdale, AZ on Friday, October 11, 2013

The footbed is really wide. So those of you with narrow feet or medium feet with narrow ankles, beware. Then there is a two by two inch gold logo at the top of each boot, outside about two inches from the top. It is painted on and incredibly ugly. Maybe even spray painted. These boots might be considered cute by some, but not by me. To each her own.
I think they are good for folks who have normal to muscular calves...that is probably good. I did not have any of the problems others spoke of of getting them on or adjusting the ties. They are just a bit cheap looking. Okay they were offered T a good price, so maybe if the foot had fit better I would have kept them for gardening.

Reviewed by Colleen S from Bristol, WI on Friday, October 11, 2013

I've had my eyes on these beauties for a year now! I was very happy with the sale price. I wear a size 7 and the 7 fits perfect! The purple color is gorgeous and the comfort is more then I expected. I think I will be wearing these boots a lot this Winter. I'm very happy with my purchase!!

Reviewed by Jaysgirl from Winnipeg, Manitoba on Tuesday, April 16, 2013

These boots should be considered a fall/spring boot but not a winter boot. Even at 14F the tops of your feet get cold. I replaced the insole with a wool one so the bottom of my feet wouldnt be cold, and that did help. I also find there is no traction even though it looks like there would be, I find myself slipping on even small patches of ice.

These boots fit kind of strange. I have narrow feet and like others have a hard time getting them on. But once they are on there is loads of room, especially around the toes width wise. I got a size 9 and thats what I normally wear. If I were to size down, Im not sure I could get them on at all.

The over all look of the boot is quite cute. Although you cant tell in the photos, the toe area of the boot curves in alot. It doesnt feel weird but it does look a bit odd and I find myself watching my feet when I walk.

Comfort wise, these boos are ok. They have a very flat foot bed, no support what so ever. But that is easily fixed.

So I did keep the boots, but only wear them when there is little to no snow. I wore them today in fact and it was 32F and I still felt the tops of my feet getting cold. But I guess thats ok for cute boots.

Reviewed by boba from Minnesota on Friday, April 12, 2013

I bought these fun boots for my wife as a present. They are warm, fun, great for Minnesota March snow.

Reviewed by Cindy the Outdoorswoman from San Diego, CA on Saturday, March 23, 2013

These are the most comfortable, sturdy, fashionable pair of boots I have owned. A special treat. I have worn them twice and have received numerous compliments (bonus). Thank you Sierra Trading Post for making it so affordable to be stylish.

Reviewed by cat from Quincy, MA on Wednesday, February 27, 2013

Nicely made boots. Wish there was more wool in the lining. Not very warm, unless you wear heavy wool socks.