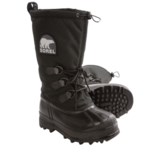 Closeouts. Designed to perform in the most extreme winter conditions, Sorel's Glacier pac boots keep feet warm in frigid temperatures and feature a built-in gaiter top to lock out snow when drudging through deep drifts.
Average Rating based on
34
reviews
3.794117
0
5
Verified Buyer

Reviewed by Jennifer from BOSTON on Tuesday, September 16, 2014

It's only fall, so I haven't been able to see if these Sorel's can keep up with a northeast winter. But they look and feel the part!

Reviewed by Erin from Chicago on Friday, April 25, 2014

Let me start by saying these boots are hilarious! If platform moon boots & combat jungle boots had a baby, this would be it. I'm not knocking them, just letting you know what you're getting. Size wise they run true to size. I have a pair of Joan of Arctics & although Glaciers are heavier, I find them to be more comfortable, grippy, & easier to get on and off. If you're looking for functional boots in extreme conditions, these are great. If you are looking for fashion these are not it! :)






Verified Buyer

Reviewed by SnowLover from Grand Lake, CO on Wednesday, April 23, 2014

These boots are pretty heavy, however they have great tread and really warm.

Verified Buyer

Reviewed by Sunny Elena from Saint Paul, MN on Wednesday, April 16, 2014

Just received these On Sale. Here in Minnesota there will be snow again today, but not enough where I live to try out these boots. My boot size is 9 (which I ordered) and they seem fine. I usually wear thin liner socks and warm socks -- not too thick. I think I could wear SmartWool Hunting Socks instead when it is super-cold (was -50 Wind Chill more a couple of times this last winter, with lots of snow to shovel/roof-rake/etc). So roomy enough, but still snug enough. Other Reviewers said they were "very heavy" -- the Details said they would be 5# -- about 2.5 pounds on each foot. Worth a try for stability, warmth, tall-with gaiter top! You certainly know you are wearing BOOTS, but in conditions where I would be needing these (including walking 4 long blocks to the BUS) I know I have to lift my feet and walk carefully for safety. (I often use my Trekking Poles for stability too.) I am confident these will serve me well, keep me warm and help me be safe. I'm not eager for the return of Extreme Cold/Blizzards/etc, but I am eager to be wearing these boots when that time comes.

Reviewed by D.W. from wy on Monday, March 31, 2014

I haven't worn these outside yet, seem very large..too big. Might return

Reviewed by photography7522 from Estes Park, Colorado on Saturday, March 22, 2014

I live outside Estes Park at 8000'. I'm outside with my great dane/black lab who LOVES the snow a lot! I'm the most cold-blooded creature you will come across and these boots keep my feet perfectly warm without getting sweaty and hot. The tread is really grippy in snow and ice, too. They run a size big, as I have found most Sorels. Usually I wear a size 9, and in these, the 8 fits great with heavy wool socks. It is possible to drive with them on...the suburban, not the turbo super beetle :-) I highly recommend these boots!

Reviewed by Nicki from Boston, MA on Friday, March 21, 2014

I didn't think they'll look this crazy. The boots look like their doubled in size compared to the actual picture. Talk about return, it can't be too soon.

Reviewed by Outdoor elder from Minnesota on Saturday, March 15, 2014

I love these boots because my feet stay warm while shoveling snow, but I have to consciously lift each foot to walk. I have wide feet. I have to point my toes and push to get them on with the liners in, but it's not hard to do and I seriously love the warmth and waterproofing. I needed these boots. They fit well. They are incredibly heavy.

Reviewed by Rebecca Jurkovich from MN on Thursday, March 13, 2014

These boots are heavy, durable and SUPER WARM. They will be perfect for our LONG HARSH, BRUTAL MN winters.

Reviewed by MJ from Grayling Michigan on Wednesday, March 12, 2014

I was so tired of having cold feet all the time. Since I got my new Pac Boots I don't ever have cold feet any more. The price was right & they were exactly what I was looking for.