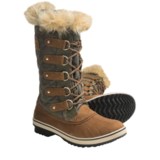 Closeouts. You'll be wishing for snow and cold as soon as you have Sorel's Tofino CVS Laredo pac boots in your closet; the stylish and waterproof leather and quilted waxed-canvas upper with faux-fur trim and cozy sherpa lining will have you looking for excuses to show them off.
Average Rating based on
16
reviews
4.437500
0
5
Reviewed by Blufour from Iowa on Wednesday, September 4, 2013

I wanted to keep these boots so badly but my toes met the end of the boot and didn't have socks on at the time. They are so good lookin' but hard workin' too. I wanted boots for slugging around the farm so I didn't want real cute but not workable. These looked nice but were tough. I couldn't go up a size and they were sold out by then anyway. I wear 10.5 or 11 but it seems that my feet have either grown or lots of companies are making sizes smaller. I tend to think it's the latter because I've noticed that the shoes and boots are looking cuter in size 11 and that's because they aren't as big and sloppy as they used to be. I had to get another pair of boots, Merrell Winterbelle boots, and I don't like them on me. They have that biggish, tugboat look on my big feet. It takes a great design to look cute on my big feet! But the Merrells fit and will be serviceable for me.

Verified Buyer

Reviewed by Built for Recreation, Not Speed from Berkeley Lake, GA on Thursday, January 24, 2013

I love these boots! I've been searching for a cold weather boot that is casual, attractive, light-weight, and comfortable, yet actually blocks out wet and cold. My search is over! Initially, I was concerned that it might be too narrow. I have a medium foot width and these Sorel Tofino CVS Laredo Pac Boots are PERFECT! My daughter has the Sorel Joan of Arctic boots and I will compare them to these Tofinos.

Although the design of these boots are visually quite similar, there are severeal significant differences between them. The Tofino boots are lighter in weight and are slimmer than the Sorel Joan of Arctic boot, no doubt from different/lighter materials used. The Tofino boot has fake fur on the tongue of the boot as well as the main part of the boot, so there is a continuous fur trim all of the way around the calf. This fur trim is missing from the tongue of the Joan of Arctic boot, leaving a gap in the fur trim at the front for wearers with calves over 11" (size 7). The Joan of Arctic has the advantage of a removable liner. My Tofino boots do not have a removable liner. I have not worn my Tofinos in the snow, so I cannot comment on that. My daughter had a wonderful experience with her J of As in the snow and loved how they kept her feet warm and dry on our last ski trip. Because our experiences with Sorel boots have been so good, I believe my Tofinos will handle the snow just fine, but just to keep them looking good I will use my snow boots (also Sorels, Cumberland) for playing in the snow.

I have worn my Tofino boots in bitterly cold, windy, wet weather as well as indoors (shopping, dental offices, etc.) with warmer temperatures. My feet were dry and warm as toast, but not sweating...very comfortable. The cushion in the footbed provides me with good shock absorbsion and my feet feel comfortable whether I am standing or walking. The interior of these boots are so soft, I really don't want to wear socks! As far as fit is concerned, I couldn't have done better if I tried. I am a solid size 7M. Both the length and width are perfect with or without thin or medium socks. Thick, heavy socks are too tight and would most likely stretch out the boot. For me, a perfect fit for a boot means the boot is not loose, but allows my toes to wiggle and the tip of my toes do not touch the front of the boot when standing and walking. Don't let the slimmer look fool you! I have big calves, 16" in diameter at the widest point. Wearing my Torinos I look almost as slim as the slim girls...at my calves anyway.

An extra pair of laces are a nice touch! My Tofino boots came with leather laces on the boots and a pair of olive man-made fiber laces. This makes changing the look of the boots more flexible. The only thing I would change is adding a little more arch support. It has a little arch, but it could use more for my foot. The good news is that the boots do have plenty of room to add the arch support needed. I have a medium arch and can get away without it. However, those ladies with a high arch may consider adding arch support if needed. Even if the insoles were completely flat, I still count this Tofino boot as a winner! It is impossible to get a perfect arch for everyone and this is a simple and inexpensive modification for the customer to make.

Thank you, Sorel, for making a great quality product and thank you Sierra Trading Post for providing it at such a great price with the best customer service!

Verified Buyer

Reviewed by NevadaScienceGirl from Reno, NV on Wednesday, January 16, 2013

These boots are super cute. I'm very short and found that the height of the boot is perfect. I would have liked it better if the liner could be removed as these are waterproof, non-breathable boots, so the liner gets a little damp from perspiration.

I ordered a size 5, and usually wear somewhere between a 5-6. These boots were a little snug, but are probably true to size, i.e., if you're a 7, order a 7. I had to send them back and get a 6.

Verified Buyer

Reviewed by Jeannie from Vestal,NY on Monday, January 7, 2013

Color is slightly different than seen

Verified Buyer

Reviewed by Bexbee from Denver Colorado on Saturday, January 5, 2013

Love this boot, much slimmer fit than Joan of arctic boot, but still fits my wider calfs comfortably. They are warm with just one pair of socks even in the snow. I was disappointed that when I tried to pull on the boots with the pull tabs, one broke. I did manage to glue back together very discreetly, but I think they are more decorative than functional. The heel took a couple times of wearing to break in so it so didn't rub, but overall very comfortable.

Verified Buyer

Reviewed by weather wimp from nebraska on Wednesday, January 2, 2013

Love these boots. They keep my toes warm during my walk to work even if it is zero out! They're also super cute!

Verified Buyer

Reviewed by brookster from Rochester, NY on Wednesday, January 2, 2013

Great boots. Perfect for a lot of snow. Good arch support and very warm. And the best part is they are light weight.

Verified Buyer

Reviewed by Mel the skier from Upstate, NY on Tuesday, January 1, 2013

Not only warm but fashionable too

Verified Buyer

Reviewed by Smack Elroy from Wisconsin on Tuesday, January 1, 2013

Bought these as a gift for my girlfriend. I'm more of a gear-head, while she is much more fashion-oriented than I. These boots hit on all cylinders. Well-built, fit true to size, so comfortable she keeps them on indoors, but I completely trust Sorel to be weather-worthy. Very, very satisfied.

Verified Buyer

Reviewed by m from huntington, NY on Monday, December 31, 2012

They were delivered in a timely manner. Love the boots. I use them on cold snowy/rainy days and they are great.