Based in Denver, Colorado, Soybu finds inspiration right in its own back yard, where active-minded customers not only embrace the brand's design concepts, but also support its green-thinking mindset. For starters, the buttery-soft fabrics used in Soybu skirts, tops and dresses are made from fibers that minimize impact on the environment, while still providing comfortable, long-lasting appeal. Casually fashioned and brimming with movement-friendly details, Soybu clothing makes an effortless transition from yoga studio to grocery store without a hitch. Sleek, stylish Soybu dresses are also perfe
... Learn more about Soybu
ct for running errands around town on the weekend or enjoying a brisk walk through the park. Be fresh and new. Be powered by Soybu. ... Less
About the Soybu Brand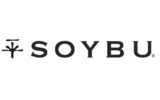 Verified Buyer

Reviewed by Bebekka from California on Thursday, September 29, 2016

I liked the style and color, but it is too small for a larger breasted woman.

Verified Buyer

Reviewed by Lisa in GA from Georgia on Saturday, September 24, 2016

I like the fact this bra has shaped cups, as I am a very small A-size. But there's a little too much weight to the construction. I live in the South, so like as little thickness/weight to workout clothing as possible. I will still keep both bras, hoping for cooler weather!!

Reviewed by Paula C from California on Wednesday, September 21, 2016

I extrememly happy with the way they fit and look. First day wearing them yesterday and I got so many compliments.

Verified Buyer

Reviewed by Michele from NJ on Tuesday, September 20, 2016

Have 4 and with probably get a 5th!

Reviewed by eastoregonian02 from Pacific NW on Sunday, September 18, 2016

My usual size in pants is a 2P. S is the smallest Soybu makes or STP carries so that's what I purchased & the fit is fine. Well....maybe a tad large, but not enough that I'd go down to an XS even if I could. I like the waistband and shirring. Not a fan of polyester. It has the very dry feel of surgical or first aid cotton - something I find very unpleasant to the touch. They're comfortable enough to wear but I'm going to return & look for a similar style legging in a cotton blend.

Verified Buyer

Reviewed by funkymama from New England on Saturday, September 17, 2016

I like the slub cotton yarn and the gorgeous (blue) color. It's roomy, but stylish, with it's three-quarter sleeves, rounded front and seamed back. Some days call for stylish comfort or concealment. This sweater would be there for ya. Also, on me it works with a wide belt, like a semi-open-front tunic, over leggings and boots or a slim skirt (I'm thinking maxi).

Reviewed by RPerez from San Francisco on Friday, September 16, 2016

I love the halter-esque style of this sports bra. I'm a 32/34B and hate it when these are super tight so I ordered a medium. It's still a TINY bit snug but very comfortable. To keep the cups in place just pin before washing or sew a stitch on each side and top and bottom. I wear these under thin tank tops and my modesty is still in tact even when it's cold. The key pockets are on both sides and could hold an iPod mini. Nice design and I'm very happy I ordered one in each color.

Verified Buyer

Reviewed by mother shopper from Texas on Thursday, September 15, 2016

this jacket was very cute and versatile. My 29 year old daughter loved it. We got it because it is breathable and lightweight for easy hiking but it is very fashionable and she uses it at work...she is a photographer and videographer and needs comfortable good looking clothes that are professional also. This fit the bill well.

Verified Buyer

Reviewed by KellyEisen from Idaho on Wednesday, September 14, 2016

I'm buying a second one as this is a perfect layering yoga sweater. Comfy and well-made.

Verified Buyer

Reviewed by daidalia from Washington on Thursday, September 8, 2016

This bra was inexpensive but very comfortable and cute. V neck and strappy back look good under shirts and the removable cup liners keep things smooth.