Specially made

Sizes

Special sizes (Big-Plus)

Gender

Style

Sleeves

Length

Features

Colors

Reviews

Events

Prices

Made in USA

Popular Specially made Products

Search Within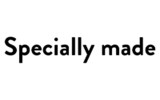 Verified Buyer

Reviewed by mary14889 from Upstate NY on Friday, December 2, 2016

i got through the fall with my old fleece lined jacket and needed something new for fall days when it's just chilly but too warm to get out the winter coat. This hooded parka will be great for that. It's attractive and warm. I like the longer length compared to most hoodies. I bought two in different colors- grey and brown tweed. I'm glad that I did but will only write this one review.

Reviewed by Agate from Nor Cal on Thursday, December 1, 2016

Fit is good on size 14. They are waist high with minimal gap in the back. Fabric is a nice, even, stretch denim. BUT, they are not narrow leg jeans. At the bottom they measure 8" across. My classic Lee jeans measure 8,25". Not much difference there. I have narrow leg jeans that measure 6.75". When I'm wearing those jeans I can slip right into rain boots without folding or tucking any fabric.

Reviewed by Harrison from Hong kong on Thursday, December 1, 2016

yes it's cheap but the quality is next to zero. after one wash, every time I took it off I still had this hairy thing all over my shirt. STP should stop selling this.
Receive email updates for new Specially made items