Sperry Reviews

Popular Sperry Products

Popular Sperry Searches
After a slippery boat deck nearly sent him overboard, lifelong sailor and inventor Paul Sperry created the first pair of Sperry Top-Sider boat shoes in 1935. Determined to find a solution for better traction, Paul carved small grooves into the bottom of his rubber-soled shoes, called "siping." His idea for the prototype was actually modeled after his dog's paws, which had evolved to navigate slick, wet terrain. Today, Sperry boots and shoes combine siped rubber soles for outstanding traction with advanced technical fabrics to keep out the watery elements. Over the years, Sperry boat shoes have
... Learn more about Sperry
even become the official footwear of the U.S. Sailing Team, the Shimano Fishing Tour and the U.S. Naval Academy. ... Less
About the Sperry Brand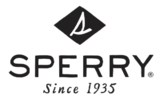 Reviewed by Mary B from Atlanta on Saturday, October 22, 2016

These are really nice shoes. I bought them for my 14 year old son who wanted a nice pair of black shoes to wear with khakis and his black team polo, required by his hockey coach, on game days. They are dressy boat shoes, perfect. The black ones are leather not nubuck, with a dark sole. The construction, leather and insole are upgraded from the standard Sperry in the gold cup line. I guessed on the size and ordered 1/2 size smaller than his sneakers, which I think run small and they fit but no growth room so I exchanged them for 1/2 size bigger. I got them them an extra 25% off so the price was incredibly good.

Reviewed by steve from NC on Friday, October 7, 2016

i like the idea of these modern " peds" but they did not fit my size 12 feet and just barley my husbands 10.5...there is good quality but not fit

Verified Buyer

Reviewed by wendy from NY on Wednesday, October 5, 2016

I was disappointed in the socks. I have only tried 1 pair but the slipped off my heal after so walking. I am going to try another pair but at this point i would not recommend these socks.

Reviewed by Charley from New York, upstate on Tuesday, October 4, 2016

Initially rather liked feel of these SNUG shoes. However, to get them on I had to buy a shoe horn, and to get some arch support I had to buy SuperFeet Orange insoles. Once I did that wearing these shoes for more than an hour or two, it seemed to rearrange the bones in my right foot so that I got sporadic shooting pains. These persisted, sometimes making it difficult to walk, even after I took the shoes off. I use SuperFeet Orange insoles in two boots without problems.

Verified Buyer

Reviewed by j, from wy on Saturday, October 1, 2016

Super stylish, I have gotten a ton of compliments on them. ASV tech in the soles provides a great ride for you feet. Easy to slip on and off, super comfortable.

Verified Buyer

Reviewed by Julie from Colorado on Monday, September 26, 2016

very cute

Verified Buyer

Reviewed by Markd from Cambridge on Sunday, September 25, 2016

9 1/2 true to size Beautiful leather and sole is very cushiony. These will be my warm weather favorites The only negative is that the inside sole is glued in so I will probably be replacing it.

Verified Buyer

Reviewed by Caroleg from California on Saturday, September 24, 2016

These shoes are extremely comfortable and supportive. They have become my house slippers

Verified Buyer

Reviewed by ckaswell from long island, ny on Saturday, September 24, 2016

I have bought different brands of this low style sock and these are great. They actually stay put! I will be getting more of these for sure...

Verified Buyer

Reviewed by Nancy from Ohio from Ohio on Friday, September 23, 2016

Boots fit great, hard to pull off if you aren't wearing any socks.
Already using for my morning walks in the woods and feet stay dry.