Sperry

Sizes

Style

Gender

Sock weight

Sock height

Colors

Reviews

Events

Prices

Made in USA

Popular Sperry Products

Search Within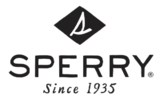 About

the

Sperry

Brand
After a slippery boat deck nearly sent him overboard, lifelong sailor and inventor Paul Sperry created the first pair of Sperry Top-Sider boat shoes in 1935. Determined to find a solution for better traction, Paul carved small grooves into the bottom of his rubber-soled shoes, called "siping." His idea for the prototype was actually modeled after his dog's paws, which had evolved to navigate slick, wet terrain. Today, Sperry boots and shoes combine siped rubber soles for outstanding traction with advanced technical fabrics to keep out the watery elements. Over the years, Sperry boat shoes have even become the official footwear of the U.S. Sailing Team, the Shimano Fishing Tour and the U.S. Naval Academy.
Verified Buyer

Reviewed by lmd23234 from North Chesterfield, VA on Monday, January 9, 2017

I was really looking forward to getting these but when I put them on they were extremely uncomfortable. Pinching and poking everywhere and in addition the back rode up my heal and caused a red spot. This was only after 5 minutes. I have other Sperry products and I've never had any problems with them, I guess I expected that these would be the same and they weren't. Very disappointing. They have been returned.

Verified Buyer

Reviewed by SarahSD from South Dakota on Thursday, January 5, 2017

Purchased these for my 6 year old to wear in the winter. Thus far, we are very pleased with the quality, thickness, and style of the socks. They don't fall down and are thick enough to provide warmth under her boots.

Verified Buyer

Reviewed by Castleqwayr from Indianapolis on Saturday, December 31, 2016

I have wider feet so I bought these half a size bigger. They accommodate me just fine and I like the black/red/white color combo very much.
Receive email updates for new Sperry items