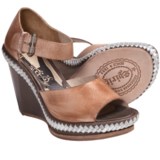 Closeouts. It's the sculpted wedge heel that makes Spirit by Lucchese's Chloe wedge sandals so curvaceously chic! Coupled with the sleek leather upper and metallic braid detail, they're simply unstoppably stylish.
Average Rating based on
10
reviews
4.300000
0
5
Verified Buyer

Reviewed by debra from indianapolis on Thursday, August 14, 2014

i have fallen in love with lucchese. i bought a pair of boots here which i love and thought i would take a chance on these. they are like works of art. craftsmanship is outstanding. they fit true to size and are comfortable. you can't loose with this sandal.

Reviewed by Mary from Minneapolis on Tuesday, June 17, 2014

I have to start by saying that I've never been a big wearer of heels, but these have become my new favorite sandal to wear! These are very comfortable to walk around in and even the first time wearing them for 8+ hours walking around town, I had no blisters or sore feet. I got these in the lighter tan color and the color is represented well in the photo.

The fit is true to size in width and length. They needed a little gradual wear the first week to loosen the leather up and break them in. The strap was pretty tight on my ankle at first, and I have very slim ankles, but again this was fine after a little breaking in. The strap is really the only part that loosens up with wear.

The only reason I didn't do 5 stars is because there is some odd gapping on the inside of each ankle where the strap is away from that part of the skin. Not a detriment, but something to consider if you're one of those really picky shoe crazy people.

Verified Buyer

Reviewed by Jane the Bicyclist from Massachusetts on Monday, June 2, 2014

These sandals are beautiful! I do not have large ankles but have the strap on the last hole.

Reviewed by Weissofcourse from Connecticut on Friday, February 28, 2014

I've long been a fan of Lucchese craftsmanship and design of their boots, and was excited to find these gorgeous sandals. True to form, they were beautifully made and featured thoughtful detailing. Cushiony foot bed and the height of the heel/wedge did not detract from the comfort/wearability. Unfortunately the placement and length of the ankle strap did not work for me - it sat lower on the ankle/top of the foot which was awkward and resulted in the strap being too tight/short.. I've never had an issue with other ankle strap shoes and haven't been accused of having cankles, so I was surprised that these sandals didn't work for me. As lovely as these shoes are, I will be returning them based on the fit.

Reviewed by Sierra Shopper from Minneapolis,MN on Tuesday, February 18, 2014

These sandals are absolutely comfy, stylish and superb quality. They are high but do not feel so because of the platform! I adore these sandals!!!

Reviewed by eastoregonian02 from PacificNW on Monday, February 17, 2014

It kills me to send these back; They are gorgeous sandals, made with Lucchese's renowned craftsmanship using the highest-quality leather. They are super comfortable. The insoles are soft smooth leather. The ankle straps fit me. So WHY would I be sending them back? I wondered the same thing when I read some of the other reviews. For me, it's that they just don't look good with anything I own. I tried skinny and boot-leg jeans, long and short summer skirts, capris, colored denims. Every time I'd think, "Gorgeous sandals. Why don't they look more flattering?" It's not the colors (black & tan) which are beautiful & look exactly as they do online. It's the shape of that front band. It sits above your toes like a bridge or an arch. That & the squarish toe throw off the whole look. They look hopelessly clunky no matter what they're paired with. You can't really tell that in the photo looking down at the top of the shoe. I am certain that's why these otherwise gorgeous shoes ended up here at a deep discount. I have small feet and slim ankles. They might look best on someone who is tall with slim ankles (the strap doesn't have holes for larger ankles, although you could punch at least two more in to make it larger.) great calves, and larger feet...but I wouldn't count on it. They are works of art - the leather wrapped triangular-heel is amazing, the tan at the back very cute - it looks like part of the leg....can't recommend them other than as an 'objet d'art. So bummed.

Reviewed by Ms. Maus from Arizona on Friday, January 24, 2014

I purchased these in the black and practically salivated waiting for their arrival. When they finally arrived I opened the box to see my black shoes were actually a deep grey. Not a problem. I loved the color. I try them on and find that my slightly larger than average ankles are too big for the strap. Or the strap was too short. Either way.... The other issue is that the toe end is too loose and doesn't keep my feet from sliding forward in the shoe. Well I love the shoes so much that I punched an extra hole in the end of the strap and now that part is ok but I will have to buy some toe stops in order to wear these beauties any where. Otherwise I think they will be quite comfortable once I have purchased the toe stops. I think you will like them if you have a smaller ankle and possibly wider toes. I hope this will help you all make an informed decision.

Reviewed by boots and bags from the midwest on Sunday, October 6, 2013

I bought these, in both colors, with high hopes---and was not disappointed. They really are beautiful shoes. Very well made, using quality materials. I have thin ankles and the very first hole on the strap works for me - there is not room on the strap to poke another. That may be the only issue I could see with these for others..? Or, it could just be the pairs I received. Yes, the black is actually a dusty black, or very dark grey. But I may like that even better. I have worn them with black (and grey) all summer long. They quickly became my go to sandals! Between the two colors, they go with everything, I love the height they give, without any discomfort, and they are really great looking. The leather is substantial, and does give with wear. They have relaxed nicely for me - more comfy all the time. GREAT purchase.

Reviewed by Medical Dansko wearer from WA on Thursday, September 5, 2013

I wore these once and turned heads! Love them. I was so so sad when I got home to find that the braid on the edge is not sewn but just woven thru. A piece of it came out. I am contemplating trying to glue it in place because I LOVE them, but for the price, it should not have been an issue. Truly sad.

Reviewed by Looking for Great Buys from St. Louis on Monday, July 8, 2013

Although I will not be keeping these shoes, they are beautiful. The style is truly chic! What's more, these shoes are one of the most well- made shoes I have ever seen. The craftmanship is oustanding. Furthermore they are stylish and extremely comfortable. The only drawback was they were not as pictured. Instead of being black in color, they were gray.