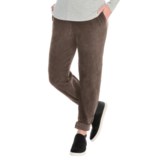 2nds. A soft, stretchy corduroy and elastic waistband offer the perfect blend of comfort and style in these sport knit pants, perfect for just about anything.
Average Rating based on
380
reviews
3.902631
0
5
Verified Buyer

Reviewed by Rosie from CT on Thursday, February 2, 2017

The pants run large and are a bit baggy. They are warm and well made. I wear them for work around the house and yard. They have nice pockets for my keys, cell phone, etc.

Verified Buyer

Reviewed by pam from DC on Wednesday, December 7, 2016

comfortable material nice look.

Verified Buyer

Reviewed by Kblj from Boulder on Tuesday, December 6, 2016

Nice pants but way too big for me. Buy a size smaller

Verified Buyer

Reviewed by BlackMoLady from Black, MO on Monday, December 5, 2016

I am at the age when I want 'comfort' clothes, stretchy, nonbinding elastic waist, big pockets, easy to wear pants.
These knit pants are everything-plus!! I could not be happier with them and STP both.

Verified Buyer

Reviewed by treelvr from VA on Monday, June 6, 2016

I have about a dozen of these pants in several colors; they are SO comfortable & soft. Although I originally bought them for working around the house since the price was so cheap, I actually now live in all of them all of the time wearing them everywhere I go. The sizing can be off sometimes; I had to exchange some of the pairs I bought to get ones that fit.

Verified Buyer

Reviewed by Sierra Fan from Southeast, USA on Wednesday, October 21, 2015

My orders for XS Regular length all worked out well for me.

Reviewed by Sierra Fan from Southeast United States on Saturday, October 17, 2015

All XS pants I received were as hoped and expected. Great buy for everyday at home, walking dogs, etc. Good pants with pockets, nice enough to wear for errands and as casual comfort clothing. Not super warm as PJs etc. but warm enough while you are active. Enough room for long underwear beneath. Not a fashion pant but looks good on, depending on your body type. Long legs, slim build, 5'6" tall - XS in Regular length worked for me, with pants sitting nicely on top of shoes with extra length but not too long...just right because the ankle opening is narrow allowing the pant to gather just a bit nicely on top of shoes/feet.

Reviewed by Sierra Fan from Southeast United States on Thursday, October 15, 2015

Love these. Every pair I received is perfect - no flaws or issues. Not a fashion pant but for comfort at home AND still nice enough to wear casually and to the store. Great as PJ bottoms as well, but not especially warm when you are not moving around so kind of defeats the purpose of using as winter PJs. Better to keep for daytime casual. They hang nicely and drape well. Pockets are not bulky. Waist size is perfect for me, not tight at all as some Size XS reviews suggested. The pants are high-waisted. Length is perfect for me, at 5'6" with longish legs, in the Regular length option. Tapered with slightly narrow opening at ankles and just enough length to sit on top of shoes nicely without being either too long or too short. They look really cute on me but be aware that these are not dress casual, office wear, or for looking sexy BUT if the fit is right for your body they are plenty cute and very functional and extremely comfortable. I love that they have pockets - without pockets, this product would not suit my needs. The fabric is very very nice. Not super-plush but still full enough and plush enough that the fabric strikes me as being better than a lesser make - these are from Land's End. At the price I paid - which was just under $2 for several pairs, and under $1 for the final pair I was able to purchase, I could not be more thrilled. All in black. Just super for me to have these on hand to meet my need to have comfortable at-home wear that is more than nice enough to leave the house wearing as well. Thanks, STP.

Verified Buyer

Reviewed by neck from hilton head sc on Wednesday, October 7, 2015

I liked the product but the legs were too long and the waist was too tigyt

Verified Buyer

Reviewed by Sierra Addict from Maryland on Sunday, June 7, 2015

Look warm and comfy.