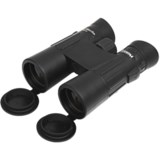 Closeouts. Steiner Merlin 10x42 binoculars boast lightweight, multi-coated roof prisms, a durable armor coating and a quick-focusing wheel that helps you quickly locate and identify birds and wildlife.
Average Rating based on
30
reviews
4.800000
0
5
Reviewed by Christine Birdwatcher from SF Bay area on Tuesday, June 2, 2015

I have used my Steiner Merlin 10x42 Binocs one year. The fold-back eyecups are very flimsy and do not hold up to normal use, they've cracked and broken. The objective covers do not stay on well either. Steiner does not warranty either the eyecups or lens/objective covers, and they will not last. The click-lock connectors do not work with standard binocular harnesses and straps, so you are forced to buy the much more expensive Steiner harness. The optics are less clear than my alternate pair of less expensive Nikon Monarchs.

Verified Buyer

Reviewed by C from OR on Saturday, May 16, 2015

excellent. glass clear to margins of lenses.

Verified Buyer

Reviewed by AnnaLaurie from Arizona on Monday, April 13, 2015

These are going to be very good binoculars for birding or clear distance viewing. They are not lightweight, but I don't know what 10 X 42 binoculars of this quality would also be lightweight.. Thumbs up.

Reviewed by Lenlew from Hawaii on Monday, March 30, 2015

Hard to imagine finding better binoculars under $300. Wanted for whale watching and bird watching; good for both. And night sky watching too.

Verified Buyer

Reviewed by Walkingman from Charlottesville, Va on Friday, February 6, 2015

I used a pair of Leitz 8x30 binoculars for years, small handmade from the 1950s but felt I was missing out. I was right. These new Steiner 10x42 binoculars opened up so much more. They gather light well enough to take a picture through the small aperture of my cell phone camera. They can focus on a subject about 6 feet away, great for butterflies that shy away when approached while excellent for birding and wildlife. They appear and feel very rugged. They are heavy but after several 5 mile hikes they were not overly burdensome. I did change the shoulder strap going to a canon EOS strap that had rubber backing making it less prone to slipping off my shoulder. I am going to enjoy these binoculars.

Verified Buyer

Reviewed by Shoreboy from San Francisco Bay on Thursday, February 5, 2015

I live on a tidal slough and use these to watch shorebirds. I'm seeing details of their plumage that I never knew existed. Their size and weight are just right; light enough to carry comfortably, heavy enough to hold steadily at 10x magnification.

Verified Buyer

Reviewed by Texas Angler from TEXAS on Thursday, January 29, 2015

I purchased the Steiner Merlin 10x42 binoculars after looking at the other high-end binoculars. The fit and finish and quality of construction of the Steiner Merlin compares well to the more expensive brands. As for the glass, the others may have been a tiny bit clearer and sharper, but because of the difference in price, the Merlins were an easy choice for my needs (hunting). The STP coupon that was available at the time I made my decision to buy was icing on the cake!

Verified Buyer

Reviewed by Obrigster84 from California on Friday, January 23, 2015

Clearly works as billed. Crisp details on everything thru the viewfinder. Simple adjustments easily and quickly made. A tad darker than my Leupolds which cost twice as much.

Verified Buyer

Reviewed by Mother Teresa from Illinois on Friday, December 26, 2014

This are awesome!!! Fine quality and unbelievable vision

Verified Buyer

Reviewed by Dt05034 from Loudon NH on Thursday, October 16, 2014

Bought these for bird watching and could not be happier than I am. Great optics worth twice the price I paid.