Stetson Plaid Flat-Weave Shirt - Long Sleeve (For Men)
Item #6419F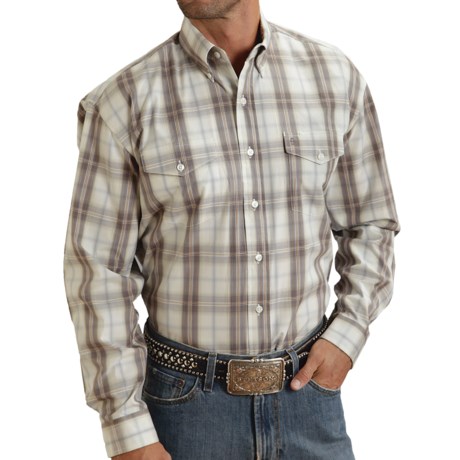 Overview
About Stetson Plaid Flat-Weave Shirt - Long Sleeve (For Men)
Closeouts. Stetson's Plaid flat-weave shirt is awash in muted tones of sepia, with a light orange satin stripe adding visual interest.
A time-honored manufacturer of American hats since 1865, Stetson launched its western apparel lines in 2005
Beautifully woven plaid cotton with satin stripe
Button-down collar
Button front
Button-flap chest pockets
Curved back yoke with center box pleat
Long sleeves
Adjustable, mitered cuffs with contrast lining
Made in China
Specs
Specs about Stetson Plaid Flat-Weave Shirt - Long Sleeve (For Men)
Collar: Button down
Cuffs: Adjustable
Long sleeves
Fabric: 100% cotton
Care: Machine wash/dry
Made in China
Reviews
About Stetson
It takes a pretty special company to create a brand synonymous with the product they manufacture. Stetson has held that distinction for over 130 years by creating hats that are now the stuff of legends. The authentic western heritage of a Stetson hat, combined with the company's unyielding commitment to quality, has made Stetson the most well-known hat in the world. All Stetson hats are meticulously handcrafted from the finest natural materials. The true essence of the spirit of the West, they are the standard by which all western hats are measured. Stetson… it's not just a hat… it's the hat.