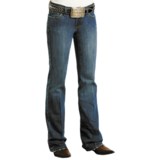 Closeouts. Experience the elation of finding a great-fitting pair of jeans with Stetson's Western jeans, fitted through the hip and thigh with generous leg openings and a low rise.
Average Rating based on
20
reviews
3.450000
0
5
Reviewed by Laura from Montana on Wednesday, May 14, 2014

These jeans were a great value. The boot cut opening is larger than most, and like others have stated, it is somewhat of a "bell bottom." For my riding and work use, the styling doesn't matter to me so much. I have another pair of Stetson jeans in a 2 and they are quote snug. So I ordered these in a 4 and they are quite snug!! So this model does seem to fit tighter than their others. The material is also thicker than most jeans these days, which is a plus. Overall, I'm happy with my purchase. I'm 5'7" and about 130lbs.

Reviewed by CZ from Massachusetts on Sunday, April 20, 2014

My favorite jeans. Based on previous reviews, I ordered one size up. Glad I did because they are very shapely and fitted through the hips. Ordered a 36" length and they're perfect. 5'11" 155 lbs. Usually a size 4. Ordered a 6. Great quality denim with excellent stitching. Looking for more Stetson jeans in my size.

Reviewed by Closet full of Boots from Northern Cal on Thursday, March 27, 2014

I ordered a size up as suggested in other reviews, but were a bit too large in the waist and even larger in the thigh area. Definitely a large boot cut, but would have had to hem them a mile. I might try again if my size becomes available

Reviewed by karaluke from Charlotte on Tuesday, March 25, 2014

I originally bought these jeans full price from a Western store. Following a 60-lb weight loss, I was elated to find my favorite jeans in my new size at a great price. Extremely flattering… low rise in the front, but higher in the back so no fear of exposing more than you want when you sit. Slim through the thigh and boot cut makes you look even thinner. Great pocket detail without being too busy. All-time favorite jeans ever!

Reviewed by Anonymous from New York on Friday, March 7, 2014

These run much smaller than the 5716 style STP has in "mineral wash". I ordered a size 10 which fits me perfectly in the 5716 (the one without the "western" in the name). I can zip them, barely. Also, and this could be viewed as an advantage or disadvantage, depending on the season, but these "western" Stetson's are a much heavier denim. The 5716 is a nice study weight, but these are significantly heavier. And of course, a much darker rinse, so the combination of heavier weight and darker color make them very suitable for cold weather. Nice jeans. Run small. I much prefer the 5716's, which are one of the best cut jeans I have ever found for my individual shape. . I bought the size out...Now, if only they would make these all in a SHORT, as in 30 inch, not 28 and not 32.

Reviewed by Courtney from Chicago on Saturday, January 11, 2014

Pros: These jeans are nicely made/high quality
They look just as they do in the pictures minus the "bootcut"" bottoms of the jeans. but the color and overall look is just as pictured
quality denim
true to size"regarding waist and hip size description

Cons:
- inaccurate description or maybe insufficient description on the true length (inseam) of these jeans. They look about 1.5-2 inches short of what i would be comfortable with wearing out in public if i ever planned to wear ANY kinda of heel, even a wedge with a 1inch heel, or actually any shoe that is not a true Flat. I am 5'9, ordered a 14 reg. length because they listed reg. length as 33" However i know this cannot be true because i regularly wear 33" and none of my other jeans fall this short. I would recommend increasing length (if you usually like 32-33in inseam i would suggest going up to the 34")

- Comparing actual jeans on me and the picture- everything including color and overall look are 100% accurate EXCEPT the "bootcut" label.
These particular jeans definitely exceed any cut that could be perceived as "bootcut", A more accurate description would be slight bell bottom. (I will say that MAYBE the "bell"effect looks more exaggerated due to the "hi-water"/"clam digger"/""Steve Urkel"effect (whatever you want to call it when wearing pants that are obviously too short). However, even if the pants were a more appropriate length, like at least hide my socks when wearing regular adidas running shoes, they would probably STILL fall somewhere in the wide leg-straight leg to slight bellbottom range and not at all close the typical bootcut .

Reviewed by KP Montana from Montana on Monday, November 4, 2013

Super comfy and stylish. Best price at STP!!! Just like the ones I bought at a western wear store except I could buy more pairs because the price was so reasonable. Excellent quality, price and super fast shipping. Great online retailer.

Reviewed by Meg from Wisconsin on Monday, October 21, 2013

I am pretty tough on jeans.I was looking for a quality product that looked nice. Stetson seems to get it! As someone who is tall I loved the option to get long and extra long. The material is a bit stiff at first. When I first put these on they were snug but I gave them a couple of days and now they fit perfect! I am hoping they last a long time!!

Reviewed by LAinMS from Mississippi on Thursday, September 12, 2013

I wear a 16/18 so I ordered a 18 to be safe after drying them. When I tried these jeans on, I couldn't even get them half way up my thighs. It was almost like they were sized wrong. They seem to be very roomy in the lower leg and are good quality, but run VERY VERY small. They are made for gals with no hips or booty.

Reviewed by Michelle from WI on Friday, September 6, 2013

I wear an 8, I ordered a 10, they fit like a 6. Returned. Otherwise seemed like a nice pair of jeans.