Stetson Reviews

Popular Stetson Products

Popular Stetson Searches
It takes a pretty special company to create a brand synonymous with the product they manufacture. Stetson has held that distinction for over 130 years by creating hats that are now the stuff of legends. The authentic western heritage of a Stetson hat, combined with the company's unyielding commitment to quality, has made Stetson the most well-known hat in the world. All Stetson hats are meticulously handcrafted from the finest natural materials. The true essence of the spirit of the West, they are the standard by which all western hats are measured. Stetson… it's not just a hat… it's the hat.
About the Stetson Brand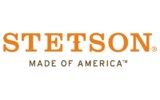 Verified Buyer

Reviewed by Heavenly skier from California on Tuesday, October 18, 2016

I like the hat but it was too small even though normally I wear that size. I had to take apart the sweat band and hat band. To adjust the fit. Hassle but I did it because the hat was such a good bargain.

Verified Buyer

Reviewed by Sam Slaughter from Suwannee on Monday, October 10, 2016

This is a 5X new Stetson probably retailing for $175.

Verified Buyer

Reviewed by Jack from Colorado on Friday, October 7, 2016

Grandson is turning 16 this month and has bought an old Mustang. Hoping he will appreciate this great driving cap. I think it's great

Verified Buyer

Reviewed by The Hiker from Arizona on Sunday, October 2, 2016

Couldn't be better for the price, and very quickly received. Excellent value.

Verified Buyer

Reviewed by Julie Michelle from TN on Friday, September 30, 2016

Love the studded styling and hem of this skirt. The waist comes up high on me--it and the back pockets have a very mom jeans feel. However, I wear it with untucked tunic tops and it's really cute. I've gotten lots of compliments.

Verified Buyer

Reviewed by Cindy from TN on Sunday, September 25, 2016

This is wonderful cap. It was too small for my husband for whom I bought it.

Verified Buyer

Reviewed by MrBill from South Carolina on Friday, September 23, 2016

Bought this for a grandson and he seems to really like it.

Verified Buyer

Reviewed by Caterpro from CT on Monday, September 19, 2016

This is a well made hat, but was too large and the brim was too wide. I had to return it. I will keep my eye out for future deals on Stetsons at STP.

Verified Buyer

Reviewed by Fred of Lyons from Colorado on Saturday, September 17, 2016

Good Stetson quality. Very breathable.

Verified Buyer

Reviewed by Naturegirl from Iowa on Sunday, September 11, 2016

My guy looks so sharp in this hat! I got the S/M size and it fits him perfectly.