Stormy Kromer

Sizes

Style

Sleeves

Gender

Colors

Reviews

Events

Prices

Made in USA

Search Within
Created by railroad engineer George "Stormy" Kromer, the Stormy Kromer clothing brand actually started with a single cap designed to stay snug, even in strong winds. Created by George and his wife Ida in 1903, the first Stormy Kromer hats were crafted of durable cloth with a canvas visor and "stay put" six-panel design. Pretty soon, other railroad workers started asking for Stormy's hats, and a company was born. Today, Stormy Kromer gloves, hats and clothing are still hand-crafted in the USA just like the originals.
About the Stormy Kromer Brand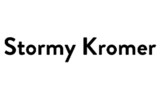 Regular $59.95
Compare at $99.99
Closeouts
Regular $59.95
Compare at $99.99
Closeouts
Verified Buyer

Reviewed by Kal from NY on Thursday, June 23, 2016

Well-made and sturdy: a prime example of "Good ol' American workmanship.

Verified Buyer

Reviewed by Stormy onward from Wi on Monday, February 8, 2016

Love this hat! Fits like a dream. Keeps my bean nice and warm and the pull down flappers keep my ears warm!

Verified Buyer

Reviewed by Flying High from Seattle, WA on Wednesday, February 3, 2016

Perfect for camping, fishing, hunting and around town. Highly recommended.
Receive email updates for new Stormy Kromer items