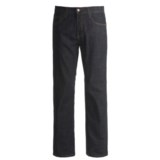 2nds. This respected brand gives it to you straight -- straight fit and straight leg -- in the denim jean wash of your choice.
Average Rating based on
45
reviews
3.622222
0
5
Reviewed by trailspike from Teton Valley, Idaho on Tuesday, October 8, 2013

One pair had the front pocket overlapped and sewn into the leg seam. This is noticeable, not comfortable, and I think shouldn't have been sold, even as a second. The second pair was properly sewn. The material is a lighter weight denim than I usually wear. Considering the price, this was a decent purchase.

Reviewed by G'diddy of 2 from NC on Tuesday, June 25, 2013

Flaps on pockets were a surprise. Fabric was also discolored and strangely wrinkled.

Reviewed by Rowdy buttons from Upstate ny on Tuesday, May 28, 2013

After reading the other reviews, I knew what to expect. The size sticker on the leg was different than what I ordered, but the actual tag inside was correct. They fit just like another pair I have from the brand that's crossed out on the tag. I might have to get another pair.

Reviewed by Johnny cool from New Zealand on Wednesday, May 22, 2013

excellent quality jeans but are not true to seize . I am a 33 x 32 and they feel like a 34 x 34 .
I'm using them in the country so is not that bad that they are a bit big for me .

Reviewed by Andrew from Virginia on Thursday, May 16, 2013

I ordered a 30 but the actual waist size is at least 34. Since it costed so little, it will go to donation.

Reviewed by Len the guy from Plymouth, MI on Sunday, May 5, 2013

For the price, the jeans are very good. They're Levis and fit as normal Levis do. I cannot find any defects or problems with them, so at this price it was worth a chance. I bought three more pairs afterwards.

Reviewed by FoothillsGlenn from NCFoothills on Tuesday, April 9, 2013

Looked fine, but the 36x32 jeans, as marked, measured about 31x30.

Reviewed by That guy from MA on Thursday, April 4, 2013

Long term wear and tear may be a concern, but for the price, they should last long enough

Reviewed by Rob K from Miami, FL on Wednesday, March 27, 2013

Good fit, size ran true. Would buy again.

Reviewed by Shrimpman from British Columbia on Monday, March 18, 2013

It's so hard to get 32x34 size, and to have a selection of styles and colors is a huge bonus. I liked my first "test" pair of these in relaxed fit so much that I ordered two more in relaxed and two in straight leg. Sure, one of the "relaxed" was actually a straight leg and of the two "dark denim" colored ones, one was black and one was a fairly light stone wash. For less than seven dollars, I was prepared to roll the dice. :) They are all Levi/Denizen brand, I can find none of the "irregularities", and they all more or less fit. One actually fits true to size and three are the expected North American standard- the hips are snug, but the waist is a good 2" over-sized.