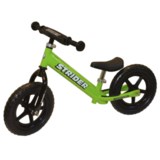 Closeouts. With a lowered seat and no-pedal, kick-off design, teaching your kiddo to ride a bike is painless and fear free -- Strider's ST-3 balance bike is made for 18 months and up, so if your little tike can walk, they'll be set to go!
Average Rating based on
34
reviews
4.911764
0
5
Reviewed by T to the K from North Dakota on Thursday, August 22, 2013

Got this bike for our 2 1/2 year old who had been riding a little bike with training wheels. She kinda missed her old bike but soon started to enjoy her new bike. She has had it for 2 weeks and is trying to do wheelies like her dad and other tricks. She doesn't glide yet, but is getting close. My 16 month old isn't quite willing to ride it yet but soon she will enjoy it too!

Reviewed by cfdz from NM on Friday, July 12, 2013

New concept to us, but makes sense. We bought it for our 2 yr old grandson, and he's starting out great....walking it and recognizing balance. Glad we bought it.

Reviewed by Oldfartlek from Arkansas on Monday, June 24, 2013

This is the best value on Strider bike that I have found anywhere. It is the best method of teaching small children to balance first and learn to pedal later. It makes perfect sense and is much more effective than training wheels. My 19 month grandson thinks it is the best gift ever.

Reviewed by Oma from Colorado on Wednesday, June 19, 2013

Nice quality bike for this age group. I have 2 grandsons that are similar ages, 20 months, and this bike is just right for them and they use it. My other grandson easily transitioned to a pedal bike at about age 4 1/2 years after using the Strider for a few years and he rode the Strider a lot and liked it. I would recommend this bike for the 18 months and up.

Reviewed by Bobby from Utah on Wednesday, June 19, 2013

This bike is very easy to assemble and my little girl loves it. No complaints!!

Reviewed by Russ from California on Tuesday, June 18, 2013

our grandson used this bike, learned balance
then he got on a pedal bike and just took off
No training wheels at all
Fun and durable

Reviewed by James from St. Louis on Thursday, June 13, 2013

Cool concept and it works.

Reviewed by Darius from Nebraska on Tuesday, June 11, 2013

Bike is well made and fits my just turned 3 year old perfectly.

Reviewed by GypsyWeaver from Fairbanks AK on Sunday, June 9, 2013

An immediate hit with wo-year-old grandson; he LOVES his new balance bike! He can use it only with his helmet on, but that's no problem. He walked the Strider bike around almost continuously for two days, talking as he walked.

Reviewed by Biker Boy from Utah on Tuesday, June 4, 2013

There are few products that meet my high expectations. This is one of them. In fact, so much so that I purchased a second one! If you want to accelerate your child's ability to learn how to ride a bike, there is no better way to do so than by using this product. With two sons that have used/use them and love them, you can't go wrong.

Reviewed by Nlhcape from South of Boston on Sunday, May 26, 2013

I was skeptical about the balance bike concept until I witnessed first hand my granddaughter at age two on her own strider. I bought two for my own yard for my grandchildren to share. By the third time on the bike, they are lifting their feet and coasting/balancing. Great for hours of fun!

Reviewed by Welchpm from Columbus, OH on Sunday, May 19, 2013

I have friend's kids who used this bike and went within in a year at age 4 to riding without training wheels! So I really wanted this for my 3 year old! She loves it!
It's super light weight so parents can easily carry when the little ones decide to stop riding!

Reviewed by Mancub's Dad from Oklahoma on Thursday, May 16, 2013

This bike is all my 2 year old wants to ride. I highly recommend this bike, very easy to put together as well.

Reviewed by SSLandEsq. from Kentucky on Thursday, May 16, 2013

Very easy to assemble. Our 3 year old son loves it - it helps him keep up with his big brother.

Reviewed by Loves to work from Utah on Wednesday, May 15, 2013

I actually bought this bike for my 20 month old son. My older kids that are 6 and 4 ride it too. It has taught them balance and how to turn and not tip over! They all ride it every day and I can see a difference in how they ride their bikes already. My 20 month old, holds onto the handles and rides it all over. I would definitely recommend getting this bike to anyone!

Reviewed by Mary from Maine on Thursday, May 9, 2013

Grandson knew exactly what it was and hopped right on, I was surprised. He'll be 2 in August. He didn't sit on it but straddled it and walked with it. Very sturdy and well made. Great price from STP! Easy to assemble as only about 4 pcs to put together without tools. Great overall! His parents were just as excited as he was watching him hop on and "ride" away!

Reviewed by Swilson from Canada on Wednesday, May 1, 2013

Light and small. Our son is 20 months old and fairls short. This bike fits him perfectly. Our daughter has a wooden balance bike and could not really ride it until she was 3 1/2 because it was too big. Wish we had gotten one of these first.


Reviewed by I luv STP from Wisconsin on Sunday, April 28, 2013

My grandson is 4 and started with a balance bike and no training wheels. He is now riding a conventional bike well without training wheels. Balance bikes are the only way to go. He has great fun with it

Reviewed by E from Omaha on Monday, April 15, 2013

My son wouldn't hold a stick at a bike and it was like pulling teeth to get him to ride. But he LOVES the strider! He wants to ride it everywhere and after 4 days he was gliding down hills with no feet. I wish we would have bought on sooner!

Reviewed by BrightonBargainShopper from Brighton, CO on Wednesday, April 10, 2013

Excellent quality, solidly made, metal bike - got two for our grandson, one for his house and one for ours! Easy to adjust and assemble. Excellent bargain on STP, too.

Reviewed by iamholt from Bountiful, Utah on Tuesday, April 9, 2013

We bought our first Strider bike two or three years ago. Our two year old loved the bike and had a blast on it all summer. The following year we got him a pedal bike and he transitioned in a few weeks with no training wheels. We've now outfitted every kid on our block with a Strider bike.

Reviewed by cools from USA on Tuesday, April 9, 2013

Great Product!! Shipping Super Fast and Cheap.! I buy More this days!!

Reviewed by Brad the grandpa from Utah on Sunday, April 7, 2013

Reviewed by Customer Care from Unknown on Tuesday, April 2, 2013

we got this for our grandson to learn balance. He's doing quite well. Thank you.

Reviewed by SCONEKID from Columbus,OH on Tuesday, April 2, 2013

My 18 month old son took to this bike right away. It is very easy for him to propel the bike and now it is hard to gethim off it! Great product!!!

Reviewed by Natalie from Minnesota on Monday, April 1, 2013

Bought two bikes for my 12 month old and my 32 month old; it's perfect for my 32 month old. My 12 month old just likes playing with the wheels

Reviewed by Chark from Mississippi on Saturday, March 30, 2013

Cant wait for our grandson to start riding but it will be a few more months. Easy to assemble and adjust. Good quality

Reviewed by Rob from Wisconsin on Friday, March 29, 2013

My 3 year old loves this. Now he can ride his bike jus like the big kids.

Reviewed by Brooke from Boise on Wednesday, March 27, 2013

This bike is great- easy to put together and I love the concept however it is a bit small for my 4.5 yr old even with adjusting the seat. My 2.5 yr old will likely get more use out of it.

Reviewed by the.rubber.duck from New Jersey on Wednesday, March 27, 2013

I bought one of these for my now 4yo when he was just 18 months. I was absolutely astounded at how fast he learned how to ride it and how much he has used it since that day. I figured he would just pass it down to his little brother but it is still his primary outdoor toy. Little brother (18 months) now has his very own and seems to love it as much as big brother. I highly recommend these for anyone with a small child.