Stroft ABR Game Fish Tippet Material - 100m
Item #4110V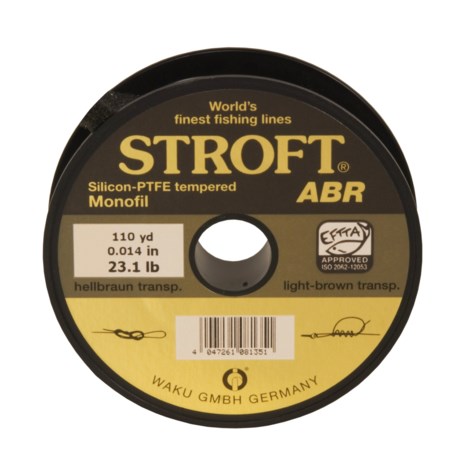 Overview
About Stroft ABR Game Fish Tippet Material - 100m
Closeouts. Made with a monofilament nylon, ABR tippet material provides high strength, controlled stretch and top-notch abrasion resistance, and is a great choice for most fishing conditions.
By Stroft of Germany
Made in Germany
Specs
Specs about Stroft ABR Game Fish Tippet Material - 100m
Material: Monofilament
Dimensions: Length 100m
Made in Germany
Reviews
Question & Answer
About Stroft
Stroft fishing line and tippet is celebrated by anglers for its superior quality and exceptional strength. In May of 2012, Fly Fisherman magazine tested 30 different monofilament fishing lines, measuring average breaking strength based on diameter without a knot. After this, the best lines were tested again using 22 different knot variations, and Stroft GTM was the overall breaking strength winner among all the tested brands. Need more proof? Put Stroft tippet and fishing line to the test yourself, and you'll soon see why it's considered one of the best.