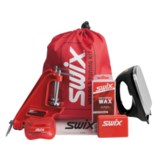 Closeouts. The all-in-one Swix Deluxe ski tuning kit has everything you need to tune your own skis in the convenience of your own home, including ski vice, file holder with file, waxing iron, wax, plexi scraper and brush.
Average Rating based on
30
reviews
3.133333
0
5
Verified Buyer

Reviewed by ems9675 from Adelaide on Wednesday, August 10, 2016

Great deal at this price. Arrived in less than 1 week.

Verified Buyer

Reviewed by Mountain John from Colorado on Thursday, April 16, 2015

I got this kit as a starter set up because it is a great deal when compared to buying everything separately. So, catch it on sale and hit the ground running. The components are well worth the investment. I will add a couple different waxes and probably one or two other brushes as I get more into it.

Verified Buyer

Reviewed by Half Connected from Ithaca, NY on Monday, March 2, 2015

This is a good starter set. I think I will be upgrading the file for next ski season, but this is a good tuning set to learn what you are doing and what is needed to tune skis. I was a little disappointed with the directions that came with the kit. It seemed more like an advertisement of what I should have purchased rather than a how-to. I had to do some YouTube searching to find out exactly how to use the edge file and feel confident about it.


Verified Buyer

Reviewed by Doctor Lax from Earlysville, virginia on Sunday, November 2, 2014

I just purchased this to tune up our family's skis and snowboards for the season. Saved me lots of money when compared to doing this through our local ski shop! Exactly as advertised. I understand the issues described about the clamps, but I simply secured the skis and snowboards to the clamps using my QuickGrip clamps. Easy! All tuned up (three sets of skis and two snowboards) for $130 including shipping...

Verified Buyer

Reviewed by mracer02 from Ohio on Tuesday, August 26, 2014

If you can get this at the closeout price, its well worth it. The iron and vice are more expensive to buy individually, let alone the other additions (wax, scraper, file, etc). All the tuning tools are on the small/compact side. Great for on the go, but may want to invest in better stuff down the road or if you plan on tuning multiple pairs of skis at once. Otherwise, great package for the price.

Reviewed by Bob from California on Thursday, March 6, 2014

This was not as expected. I will return this to the store.

Reviewed by Alp-Skate skier from Washington on Thursday, January 2, 2014

I purchased this kit along with a Swix waxing table and was very disappointed that the 2 supplied ski "vises" were really only ski rests, and were kind of useless, especially when you have to scrape wax or file, and need your ski's to be held firmly. The catalog picture cleverly has one of the kit's components blocking you're view of the "vises" so you can't tell what your getting. Note, there's only 2 end supports shown in the picture and that's all you get! The kit is basically missing the all important center vise! You could buy a Swix center vice for $75 or more but that's crazy expensive for what should have been included in the first place.

The solution is to go to Harbor Freight and buy their clamp-on 6" Portable Carpenters Vise, for $19.99, or even less if you use one of their 20% off coupons. It's Harbor Freight's Item #95203, and without any modifications, it has the perfect dimensions to serve as the missing center vise and works great for all my family's ski's. The vise, grips onto your binding's base plates and everything is rock solid!

Verified Buyer

Reviewed by Chachi fonzarelli from Candia, nh on Tuesday, February 19, 2013

Good starter kit. Vices should snap onto bindings for a more secure hold.

Verified Buyer

Reviewed by Falling Down the Mountain from Sunapee, NH on Wednesday, January 30, 2013

The iron and vises are the reason to buy this kit if you can get it cheap ($80-100 range). The kit does not come with a middle clamp to support the ski in a flat position so keep that in mind when comparing options for purchase. The wax, guide, file, plexi scraper and brush are better than nothing but you will want to piece those together from another source.

If the price is right the vise and iron are tough to beat.

Verified Buyer

Reviewed by Ski and boarder from Quechee, VT on Tuesday, January 22, 2013

This was a gift and perhaps the buyer didn't realize how limited this package was. The instructions with the kit included many parts that were not included in this tune kit. The file is very basic and there was only one block of wax included. You'll need to suppliment this kit with other equipment to have a complete tune set-up.