Tag Happy Holidays Ceramic Bowls - Set of 3
Item #6081M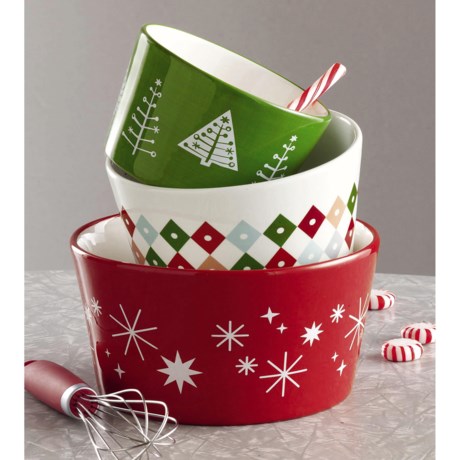 Overview
About Tag Happy Holidays Ceramic Bowls - Set of 3
Closeouts. Every holiday hostess needs an assortment of festive bowls to serve up the season's sweets and treats, and Tag's Happy Holidays Ceramic bowls create a compact nest in your cupboard when they're not at the table.
Set of three
Large bowl:
Height: 3-7/8"
Diameter; 6-1/2"
Medium bowl:
Height: 3"
Diameter: 5-3/8"
Small bowl:
Height: 2-5/8"
Diameter: 4-1/4"
Made in China
Specs
Specs about Tag Happy Holidays Ceramic Bowls - Set of 3
Weight: 2 lb. 13 oz.
Material: Ceramic
Dishwasher safe: Yes
Microwave safe: Yes
Made in China
Reviews
About Tag
Tag distributes a range of quality home décor, accessories and furniture, including Tag glasses and Tag dinnerware. Tag brings stylish design to your home without emptying your bank account. Whether you are entertaining guests or having a quiet night in, contemporary and traditional styles of Tag dinnerware enrich your dining experience with eye-pleasing design and functionality. No matter the season or occasion, classic Tag glasses are a highlight of any fun-filled dinner party. Tag does not sell directly to consumers, only to qualified retailers like Sierra Trading Post, making fashionable Tag glasses and Tag dinnerware available to you!