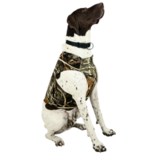 Closeouts. Team Realtree's dog chest protector is designed with your dog's safety and comfort in mind. Its lightweight neoprene construction is tough enough for field and brush work.
Average Rating based on
25
reviews
4.120000
0
5
Verified Buyer

Reviewed by Stellina GP from Denver, CO on Thursday, June 18, 2015

I was surprised with how well it fits my medium-large dog. Nice padding, secure closure, nice looking.

Verified Buyer

Reviewed by Dee from North Dakota on Friday, June 5, 2015

this was an awesome deal!!! high quality chest protector!!!

Verified Buyer

Reviewed by Upstate NYer from Upstate NY on Wednesday, March 18, 2015

It ran a little small. THe dg is a 70 lb Goldy and we ordered an X tra Lg. Very tight fit. Plan on treating this with Tick repellant.

Verified Buyer

Reviewed by Daniel Labrador from Tennessee on Sunday, March 15, 2015

Very good product. They should make it for bigger dogs like Labrador Retriever. The biggest size available fits only a medium sized dog.

Verified Buyer

Reviewed by NNYfirefighter from New York on Saturday, January 3, 2015

Good for extra warmth. This vest is a light weight neoprene. Dont exspect a heavy 5m vest.

Verified Buyer

Reviewed by Weimaraner Momma from Michigan on Thursday, January 1, 2015

Bought this for our 3 year old Weimaraner (about 80 pounds) for pheasant hunting in S.D. He had a run in with a barb wire fence last year and cut his chest up a bit (though he seemed to figure it out this year) so hoping this Chest Protector will help avoid any future cuts and scrapes. He has worn it twice already while just out for a hike in the woods. He doesn't seem to mind it at all. It fits him snugly almost like I'd think a Thunder jacket would except around the neck. A few inches too big but as he has really short fur, I can see where a dog with longer fur would need the extra space around the neck. The Velcro is great, stays flat on his back, and doesn't bunch up. Husband wasn't happy when I bought it online (as we have tried others without success; too tubular and not contoured at the waist for a streamline fit) but now hubby says "I am surprised how well it fits his body. Order a few more!"

Verified Buyer

Reviewed by Billy Bob Windrow from CA on Monday, December 1, 2014

Wrap around neoprene vest not a true chest protector-- no hard surface belly. Fit finish good so 4 stars as vest. 4-5 mm vests are stiff and hamper leg movement unless fit just right. This softer so more ease of movement trade off.

Reviewed by Jake from Santa Fe on Wednesday, November 12, 2014

Bought this for my 44lb Staffordshire Bull, it fits everywhere except the neck, way too big...about three inches too big. She also doesn't like it, trying to bite it off. Will take her hiking in the mountains soon and see how she accept it even if big in the neck. Guess it will only fit well if your dog is the same as the model in the picture. However, only paid six dollars for it so will keep it and see how it goes.

Verified Buyer

Reviewed by Fritter from Maine on Wednesday, November 12, 2014

I am surprised that the vest is as good as it is for the price. I will say that it shows a Shorthair in the advertisement and it is not really made to fit the shape of a Shorthair. I will need to do a bit of alteration on the vest for a "Safe" fit as there are some gaps that could get caught on brush or debris in the water. I got it too late to use here in Maine, but I think that it is a decent product for the price. I believe it would fit a more stocky and sausage like dog as the Shorthairs have a big chest, small waist, and small neck.

Verified Buyer

Reviewed by Kay from Alabama on Tuesday, November 11, 2014

I'm not sure what kind of dog this would fit, but it does not fit ours very well. We have a 45lb Brittany and the large fits him everywhere except the chest. There it just gapes open. I am going to try to take it in, since it was only $3, it's worth a try.