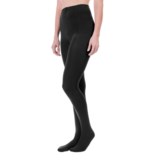 Closeouts. Terramar's HotTotties footy base layer pants have warm fleece backing for low-bulk insulation, and use EC2® Qwik-Dri® technology to regulate body temperature and wick moisture.
Average Rating based on
146
reviews
4.075342
0
5
Verified Buyer

Reviewed by Phil the thrill from Pa on Wednesday, March 29, 2017

So warm! Fit is nice.

Verified Buyer

Reviewed by laura from Houston on Monday, March 27, 2017

I bought several pairs of this product for my daughter and I decided to get a pair also for myself. I tried them on and they are soft and nice. They felt pretty warm to me but I live in Houston so don't trust my word on that.
My bottom size is a 6-8 but the large works very well for me.

Verified Buyer

Reviewed by Withawhy from Pennsylvania on Tuesday, February 7, 2017

I love these but don't want anyone thinking they're more than heavy fleeced tights. No "control" built into them, simply super spandex lightweight fleece-lined tights. Thick enough for good warm coverage even with short dresses but not adequate to wear under tunic tops in place of proper leggings.

Verified Buyer

Reviewed by Adventure Girl from Sun Valley, Idaho on Tuesday, December 27, 2016

Perfect for wearing with winter short skirts and dresses.

Verified Buyer

Reviewed by Danah from Georgia on Wednesday, November 2, 2016

Bought it for my trip to Iceland. It's soft and very warm. I am 5,2" and 120lb so I ordered the small and it fits perfect. Love the closed ending of the legs, it makes it so easy to put pants on top of this tights.

Reviewed by Giggsy from Palm Beaches on Friday, September 23, 2016

First of all -- these tights are sooo comfy! Very soft on the inside, and nice and thick. And they do a good job of keeping me warm (but I have not tried them in below-freezing weather yet). I got the Large and they're barely long/tall enough for me! I'm 5'8" 125lbs and I have to work at getting the crotch up to where it belongs...but it does get there! Width-wise, they're fine. The waist is nice and high, and not so tight that it cuts into your stomach, but tight enough to stay where it belongs. These are great as tights alone, or as a layer under jeans in really cold weather.

Verified Buyer

Reviewed by SJEAN from Iowa on Monday, April 4, 2016

I wear these in the winter with skirts/dresses. I bought my first pair four years ago and these are by far the best I have found! They are warm and hold up very well!

Verified Buyer

Reviewed by runnermom from Indiana on Tuesday, December 22, 2015

I'm extremely pleased with these! I wore them to work with a skirt and boots on a particularly cold day. They passed the "business look" and I was comfortably warm! I will use them as a base layer for outdoors also. They are pleasantly warm, seem to wick, but they don't look like "old lady support hose". Very pleased!

Verified Buyer

Reviewed by Lambud from Missouri on Saturday, December 19, 2015

Although a bit tight, I kept them b/c the tightness will, I hope, keep things looking trim when I wear these with a skirt. Nice warmth. Wish I had ordered one size up..

Verified Buyer

Reviewed by Karen from Utah on Friday, October 23, 2015

I was sad to have to send these back; they were so soft and cozy. Everything fit well except for this odd seam at the top of the thighs/booty. I took them off and put them on again. Same weirdness. Decided it would make me crazy to try to ignore so back they went. i am 5'7" 170 lbs, curvy, with muscles. I ordered a size up.

Verified Buyer

Reviewed by Quick Rick from Mountains on Friday, August 14, 2015

Overall seems good, but ask me again after winter is over. Always liked Terramar.

Verified Buyer

Reviewed by AnnaLaurie from Arizona on Wednesday, April 29, 2015

These are silky smooth lovely bottoms. For me, at 5'11" and someone who normally wears size 12, I ordered size 14 and they were still significantly too short for my 33/34" inseam. Too bad :-( For those of you who are average or shorter, you'll love these.

Verified Buyer

Reviewed by Kelly in PA from PA on Tuesday, April 21, 2015

I really love these tights. They are well made and comfortable. They are just a little too short. I'm a 32" inseam and the small isn't quite long enough and they are not tight around my waist. A bigger size and they'd fall off me.

I may just snip the toes and make them into footless tights which is still a great deal at this price!!

Verified Buyer

Reviewed by Diana from Oregon Coast on Friday, April 10, 2015

Great quality and comfort!

Verified Buyer

Reviewed by Shoester from California on Monday, April 6, 2015

Thanks to previous reviewers, I ordered up in size. I am 5'-6" tall, 140 lbs. The XL I ordered is plenty big for me. The material is super stretchy, so the tights are very roomy and easy to get on, but not at all baggy or saggy. I could have fit in L, but that was not in stock.in the color I wanted. I really like how easy it is to put these on. I think they will be multi-purpose for travelling, as "stockings" to wear with a skirt, and "base layer" to wear under pants when it's cold.

Verified Buyer

Reviewed by Lizzie B from SW Virginia on Thursday, March 26, 2015

Nice texture, soft and very cozy warm. You can feel the warmth as soon as you start putting them on! I ordered a second pair of them even though we are at the end of the cold season...I will be ready for the cold come winter!

Verified Buyer

Reviewed by Sarah A from Seattle on Tuesday, February 24, 2015

These are what I would call heavy tights. They're nice and stretchy and don't bind at the waist. Because of my long legs, I ordered a large even though I usually wear a Medium in most clothes. These bottoms are perfect under skirts for dress up or under my rain pants for walking. Very comfortable and cozy.

Verified Buyer

Reviewed by alpinemtngoat from alpine utah on Monday, February 16, 2015

nice warm comfy highly recommend good price

Verified Buyer

Reviewed by Laura from Michigan on Sunday, January 25, 2015

Bought these for my daughter and she loves them! They keep her warm at school going between buildings in the winter without the awful bulk.

Verified Buyer

Reviewed by Rebecca from Minnesota on Thursday, January 22, 2015

These tights are great! I would second the other reviews which indicate that you should size up one size, but they keep me so warm that they have revolutionized my ability to be out in the cold upper-Midwestern winter.

Verified Buyer

Reviewed by Emily from Pittsburgh, PA on Wednesday, January 14, 2015

They are warm, not too tight around the waist (ie, comfortable to wear all day), and don't slide down or sag in the crotch.

Verified Buyer

Reviewed by Marge from Michigan on Monday, January 12, 2015

After two mix ups with my shipment, these awesome tights finally arrived. The customer service I received was outstanding during the confusion with my order, and I will continue to be a loyal customer! These tights are the most comfortable, warm, and stylish that I have ever owned.

Verified Buyer

Reviewed by lakegirl88 from NJ on Thursday, January 1, 2015

This is a grat first layer when going out in cold temperatures. Keeps me very warm when going out for long walks. Very comfortable but be sure to size up!!

Verified Buyer

Reviewed by Katherine S. from Wisconsin on Tuesday, December 23, 2014

I live in Wisconsin and I love to wear dresses, so I went looking for stockings to wear in the winter and these are perfect! The soft fleece lining the inside feels great, too!

Reviewed by Seattle from Seattle on Wednesday, December 17, 2014

I'm 5'3, 165 lbs, and an XL shouldn't have been a problem, But these were uncomfortably snug, don't come with feet (not a deal breaker), the top of the thigh bunches around the crotch, and a little shrinking would have made these unwearable. There's not much stretchy give for wiggle room.

Too bad, they seem really warm with a thin fleece lining. And yeah, the double seam down the buttocks' backside made this feel uncomfortable.

Reviewed by Dana from NJ on Thursday, December 11, 2014

The material is very soft and seems like it would be warm but they run very small and aren't very stretchy. I'm about 5' and 115 lbs and the small was much too tight. I ended up sending them back.

Verified Buyer

Reviewed by Jessica from Kentucky on Monday, December 8, 2014

These tights are SO WARM. Like, I'm amazed at how warm they are. I've worn them twice so far: once as a layer under pants, and second with a "romper" shorts outfit. I went hiking in the mountains with them as a base layer and got so warm I had to take them off. When I wore them as part of my outfit I was outside in a drizzle rain and didn't get cold at all. I can't wait to wear these when it gets really cold out. I know I'll stay nice and warm!

Verified Buyer

Reviewed by Carol the Warmth-Lover from Mid-Atlantic on Wednesday, December 3, 2014

I ordered the charcoal gray version of these first, then put in another order for the black ones when I realized how soft, warm, and sturdy this product is. I ordered the XL size after reading from others that they may run small (I'm 5'8" and 150 lbs) and they fit comfortably.

Verified Buyer

Reviewed by csmithesq from Ohio on Saturday, November 22, 2014

I have a circulatory disorder that normally prevents me from riding year round. This is my second pair of footed tights and, along with SmartWool socks, they have helped me to keep cycling all year long!

Verified Buyer

Reviewed by east coast cali from California/NYC on Monday, November 17, 2014

These tights are as soft as could be, and very warm despite their thinness. Fair warning that if you're tall like me they'll need to be stretched out — the first time I put them on, the crotch was almost at my knees (I'm 5'9" and bought an M) and took some considerable hiking up before I could wear it comfortably. Hopefully over time they'll stretch out.