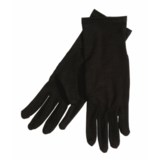 Closeouts. These Terramar glove liners add a non-bulky layer of warmth inside your ski or work gloves.
Lightweight merino wool is breathable and wicking
Naturally odor resistant
Spandex stretch maintains flexibility
Fabric: 96% merino wool, 4% spandex
Care: Machine wash/dry
Made in China.
Average Rating based on
264
reviews
4.147727
0
5
Verified Buyer

Reviewed by Kati from Oregon on Sunday, November 27, 2016

Fit well, are comfy, seem durable

Verified Buyer

Reviewed by 3 boys from canton ny on Sunday, November 20, 2016

hope they last

Verified Buyer

Reviewed by mh from PDX on Sunday, November 6, 2016

Keep them away from the hook side of velcro, and they'll keep you happy. I'm currently using mine under Bar Mitts (pogies for bike riders), but when it gets colder, they'll go inside winter gloves, which when I'm on the bike go into the Bar Mitts. I hate frozen hands.

Verified Buyer

Reviewed by MJK from Massachusetts on Sunday, October 30, 2016

...and lose many of them! These are a great replacement for any which get lost: not too expensive, plain black. They stretch-to-fit; they are warm on their own but also fit well under my heavier gloves and mittens; and they survived the washing machine so far. I will probably order a second pair.

Verified Buyer

Reviewed by Nooch from New Hampshire on Friday, October 21, 2016

These glove liners are thin and fit under my gloves without a bulky feeling. They are true to fit and the merino wool hould add a layer of warmth.

Verified Buyer

Reviewed by Biker Girl from Redding on Thursday, April 21, 2016

I love these gloves, but they run small. I recommend ordering one size up.

Reviewed by Laura Redcloud from Boston on Tuesday, April 12, 2016

These lightweight glove liners were just what I needed, giving me extra warmth in my mittens; protecting my hands from the cold in those moments throughout the day when I have to remove my mittens to manipulate a zipper or somethng; and acting as light gloves for warmer days when I'd still feel the chill when using my hands a lot outside (like holding binoculars). I would have given this a five-star review after the first month or two, but they began to fall apart before I'd even gotten through one winter. The thumb seam came completely undone, and I was able to sew that back together, but it's also developing non-seam holes in the actual fabric, which are much harder to repair.

Verified Buyer

Reviewed by loja the outdoors woman from seattle on Sunday, February 28, 2016

These are my second pair, as I lost my former pair. I love these because they fit well as liners in wool gloves that I wear skiing. But beware that the size is much smaller than you'd expect. I ordered size medium although I normally would wear size small.

Verified Buyer

Reviewed by Catdancer from Cleveland on Thursday, February 25, 2016

I had used Smartwool liners before and was expecting a glove of similar weight. These are sized smaller and very fine.

Verified Buyer

Reviewed by Meowster from Wellesley on Sunday, February 21, 2016

Liners true to size, light and v warm. I am female and got Medium for 7.5 " around under knuckles. Be careful. Moths can attack them so best to store in cedar closet. I have had these before and keep some in my car in case we go biking.

Verified Buyer

Reviewed by MCO from Denver on Wednesday, February 17, 2016

I really like these liners. They're very thin but add an additional level of warmth to my gloves and mittens. They're thinness allows use even with tighter fitting gloves which is helpful.

Verified Buyer

Reviewed by TjHiker from Virginia on Saturday, February 6, 2016

These gloves are perfect for my long hikes and will be a great supplement under my gloves if needed.

Reviewed by MsT from NW PA on Sunday, January 31, 2016

I love these and the fit is great as I have long fingers. However, the middle finger on one glove got a run and has worn through after 2 winters of wear, which is very disappointing.

Verified Buyer

Reviewed by free from NJ on Tuesday, January 26, 2016

These gloves are perfect as liners. They're very thin and wouldn't do much by themselves, but work great under a pair of gloves.

Verified Buyer

Reviewed by Sona from California on Monday, January 25, 2016

This pair of gloves keeps your had warm but after one wear or one wash, tiny reads come out from the seams. I wore my previous pair twice, washed it with the above result, and when I wore it the third time, I had a tear on one of the fingers.

Verified Buyer

Reviewed by Fisherwoman from Minnesota on Tuesday, January 19, 2016

I wear these gloves as much on their own as I do as liners. They look sleak, allow great manual dexterity and when they wear out in the fingertips, they are perfect for baiting a hook.

Verified Buyer

Reviewed by Linda from NY on Thursday, January 14, 2016

I have been using Terramar silk liners for many years and this was my first purchase of the Merino wool ones. They are very thing but add a nice warm layer under gloves or mittens. The size medium I have always ordered for the silk liners fits perfectly. I often wear these liners under a slightly thicker different glove liner to have warm hands but still have flexibility.

Verified Buyer

Reviewed by joe from Colorado on Tuesday, January 12, 2016

Ordered for my wife who has small hands, being only 5'3" and 100 pounds. Ordered size medium based on other reviews saying size small is too small. Glad I did. Thanks for the advice; it was right on. Size small would have been too small. Size medium fits perfect and she loves them. Just the right thickness (thinness?).

Verified Buyer

Reviewed by Sally Ann from Seattle Washington State on Sunday, January 10, 2016

machine wash great. flexible. lightweight. excellent quality. great value. prompt shipping and careful professional packaging by Sierra Trading Post. I've been a repeat customer for their great variety of high quality products.

Verified Buyer

Reviewed by hikermom from los angeles on Monday, January 4, 2016

seem comfortable and will fit under snow gloves.

Verified Buyer

Reviewed by Eljay from seattle on Sunday, January 3, 2016

Excellent! Well made, soft, non-binding, thin and warm. Perfect combination. Works well under ski gloves and by themselves day to day [pacific northwest].

Reviewed by Jojo from Oregon on Monday, December 28, 2015

I have very small hands and the short fingers on these make them webbed. Even worse, as others have said, elastic threads start popping out of the fabric by the second or third time you wear them, which makes them look awful. Can't imagine how these got so many good ratings unless folks rate before giving them a few uses.

Verified Buyer

Reviewed by honeydog from Massachusetts on Sunday, December 27, 2015

Bought the small size for my wife. Way to small for her hands. Unless your wife's hands are tiny you should consider getting the medium size. I bought the large size for myself and they fit fine.

Verified Buyer

Reviewed by Jen from California on Tuesday, November 10, 2015

These liners are great. The fit was great. I love how thin they are, they can be used in any other glove I have.

Verified Buyer

Reviewed by Cold hands from Oregon on Monday, November 9, 2015

I have Raynaud's so I wear gloves much of the year. I have several pair of these - in my coat pockets, in the car, at bedside and by the computer. When it gets cold out, I use them as liners with my heavier gloves. Wool gloves are best for really cold hands.

Verified Buyer

Reviewed by Pappy from Iowa on Monday, October 12, 2015

Great gloves. Light weight merino wool. I used them to prevent blisters with the hiking poles and on cool nights and mornings. Touch pads help with using a phone.

Verified Buyer

Reviewed by Gettin' Outdoors from Milwaukee, WI on Wednesday, September 23, 2015

Good fit and quality. I have a couple pair of these and can't beat the price for them

Reviewed by Kaiki from Far away on Tuesday, September 15, 2015

These gloves are ideal! I never thought I'd be able to find anything that would fit my hands this perfectly.
And they are sooo thin! I don't know, maybe it'd be considered a minus for someone, but that's exactly what I was looking for. Like there're no gloves at all. Supreme comfort! No bulkiness at all.
Finally (main gloves' duty) - they are warm.

Originally bought them as a liner for my mittens, but now feeling like I'd use them on a daily basis (or buy additional pair... really feeling an urge to stock up!).

Verified Buyer

Reviewed by Beth W from Pacific Northwest on Thursday, September 3, 2015

We plan to use them for camping and backpacking; they seem like they'd help keep hands warm without impeding movement too much; although we have not yet had a chance to try them, and do not know how well they'll hold up to use and washing.

Verified Buyer

Reviewed by owlgrabber from OREGON on Friday, July 31, 2015

I will wear them alone in the fall and as liners in the winter.