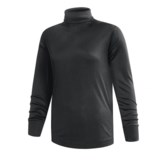 2nds. With Terramar's long sleeve interlock turtleneck you can experience the luxury of silk with all its warmth and lightness. It also wicks moisture and releases excess heat.
Average Rating based on
460
reviews
4.354347
0
5
Verified Buyer

Reviewed by AnnP from Connecticut on Wednesday, April 23, 2014

This will be perfect for traveling in the colder weather. Too thin to wear by itself - but that's not why I bought it- lightweight and easily packed. Great price too!

Reviewed by butterfly from virginia on Sunday, March 2, 2014

The turtle neck is useless. It folda down to the neck.

Reviewed by roundisle from Texas on Friday, January 31, 2014

From the title of the product, thought I was buying a nice White turtleneck but it was a base layer.

Reviewed by pennmar from MD on Monday, January 27, 2014

This turtleneck is lightweight and dressy, but still cozy! I bought it in white and black and wear them almost every day.

Reviewed by Crisse from MetroWest Boston on Saturday, January 25, 2014

These are perfect as a base/1st layer. I don't believe I'd ever wear these tnecks on their own as they are very thin. Being so thin they are perfect under a crewneck/vneck sweater and add little or no bulk to your look. I just wish they'd come in more colors! The necks themselves are stretchy, almost as though there is a touch of lycra in them, so they're snug but not choking tight.

Reviewed by Previously Chilly Milly from North Carolina on Wednesday, January 22, 2014

I first found these deliciously comfortable silk turtlenecks years ago in the Sierra catalog. They have become increasingly hard to find, so I am especially happy to have located these. They are wonderful 3-4 seasons of the year, depending on where you live, and they make a fantastic base layer for winter. They add a comforting feel and finished look under both casual and more dressy clothes. They are easy to care for, and I don't feel quite dressed in chilly weather without them!

Reviewed by Jilly B. from New York (and often Colorado) on Sunday, January 19, 2014

I love the Terramar silk Turtlenecks. I have bought them over the years because they are attractive, provide warmth without adding bulk, and look great under other garments.

Reviewed by Dragonfly from Oregon on Thursday, January 16, 2014

I purchase silk turtle or crush necks to wear under wool sweaters. Wool can be scratchy, but do warm and nice in the winter. With silk between skin and wool, it all becomes lovely for winter wear.

Reviewed by Gravity'sNotMyFriend from California on Monday, December 30, 2013

I ordered one shirt to see if it was as soft as the silk longjohns sold by
Terramar. I loved the length, and though the silk was not as soft as the Terramar bottoms,
it was nice enough to keep. The neck, however, was super-tight. I would not order this
turtleneck again simply based on the tightness of the neck. And by-the-way, I wear
turtlenecks all through the winter every year, so I know how a turtleneck should feel.
Too bad, because I wanted to love this shirt.

Reviewed by Country Girl from Harrison on Friday, December 20, 2013

I love silk turtlenecks for under sweaters in the winter. These appear to be well made and fit nicely. They are too thin to wear on their own, but that's what I like about them. Not so thick under another sweater that you swelter. A good buy.