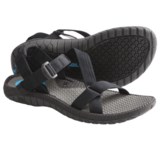 Closeouts. The strappy, foot-securing upper, cushy, shock-absorbing footbed and seriously grippy outsole (tested on a grease-covered aluminum ramp, no less!) of Teva's Bomber sandals means you can go straight from trail to slick creek bottom without a second thought.
Average Rating based on
11
reviews
3.727272
0
5
Verified Buyer

Reviewed by Skeptic from Arkansas on Tuesday, June 9, 2015

Good shoe, but did rub a decent blister on my heel.

Verified Buyer

Reviewed by sandbucky from Utah on Saturday, June 6, 2015

Nice sandal, however fit's about i/2 size to small. I bought same size as all my Teva's but these were smaller overall. Other than that, shoe felt great, just size up if considering.

Verified Buyer

Reviewed by Brent Disney junky from WDW on Friday, June 5, 2015

They a very comfortable and look great. I broke them in with 30+ miles at DisneyWorld now it's off to some trails

Verified Buyer

Reviewed by KC from Michigan on Saturday, May 30, 2015

I have worn traditional Tevas for years. The sole on these sandals is superior. The arch support is higher and the grip really is stronger. Great sandal. Only complaint: I have a narrow foot and they are a little wide.

Reviewed by Mac from Boston, MA on Wednesday, May 6, 2015

First and foremost these fit me well. I'm an 11EE in Nike, cannot wear Reebok, and 10.5EE to 11EE in most dress shoes. That's the key here, make sure your foot is voluminous because you can't cinch down on the top of your foot or toes, only the ankle area. With that said, the rest of this review will assume you have a big stump of a foot.

Adjustment is minimal. At first this was tough to figure out, but now it's a breeze getting in and out of these. I use them for shore fishing so buckles and velcro always got messed up with the salt and sand.

Spider Rubber is excellent. Especially on wet rocks. It's not going to help you on algae covered rocks but for dry and wet surfaces it's the best out there.

Foot pad is comfortable. I need arch support and this is better in these Teva's than others I have worn in the past. Similar to the Chaco arch.

If you fit into these, like me then you'll be very happy. There are a few negative but helpful reviews here that mention fit problems. I took a chance and can only describe my situation. If you have a similar one then, for the price, these are a bargain.

Verified Buyer

Reviewed by Patrick from Indianapolis on Tuesday, July 22, 2014

It may sound crazy that I have bought these sandals because they have Spider Rubber on the bottom. The last pair I bought with Spider Rubber lasted me almost (only shy by a month) 6 years. I use sandals all summer, from hiking, to commuting, to biking, and sometimes doing yard work. I want something rugged and comfortable. These seem like they will work at well as my old one. Unfortunately my only complaint for these is the strap system. It is not as adjustable as my old ones. But in the end is worth the Spider Rubber on the soles.

Verified Buyer

Reviewed by The slider from New York City on Monday, June 9, 2014


I am really dissatisfied with the purchase of these sandals and I am sorry that I discarded the box they came in. The problem that I am experiencing is that the strap that crisscross and hold your toes in place is not adjustable. The strap is to big and when I walk my foot slides from side to side.

Verified Buyer

Reviewed by Flat-Footed? from Colorado on Wednesday, June 4, 2014

Too bad the molded footbed of this sandal is so uncomfortable (unless you have an arch that covers 3/4 of the bottom of your foot). It's the only sport sandal Teva still makes that doesn't use velcro and supports your foot well.

Verified Buyer

Reviewed by GK from California on Wednesday, May 21, 2014

I was looking for another pair of Teva sandals to replace ones that I have now (Stratum). The photos look like these have a more substantial arch than they actually have. The foot bed has only a very mild arch and not sufficient for my needs. I have flat feet that pronate a lot so I need a good foot bed. Also the straps are not easily adjustable and thus more difficult to get on and off. My current ones have Velcro adjustable straps over the instep and forefoot so they are easy to get on and off and adjust for comfortable fit. These were returned. Incidentally, returning to STP is easy, especially if you have access to a store. It went without a hitch.

Verified Buyer

Reviewed by noecar82 from New Mexico on Wednesday, May 21, 2014

Nice quality and comfortables.