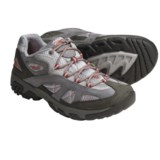 Closeouts. With a Mush® infused insole offering cushioned comfort, Teva's Genea trail shoe welcomes long days on the trail or walks in the park.
Average Rating based on
149
reviews
4.315436
0
5
Reviewed by Debi from North Texas on Monday, February 17, 2014

This is my first time for a Teva Shoe, I've worn the sandals, and summer shoes. Just not a closed toe shoe. I am impressed! I usually wear Merrells, but saw these on sale and thought I'd give them a try, . based on other reviews. I run a non-profit resale store. So I'm on my feet 10 plus hours a day. Walking, standing, lifting, all on concrete. From the box, these are really comfortable. I saw other reviews talking about the "boxy toe". Hummmm When i put them on I saw what they meant, but really, after a couple of minutes ,no big deal, and boy the comfort!!! I don't think the toe area is any more "boxy" than other shoes, just a thicker lace up area. All in all, I would buy these again. I plan on taking these to a business conference, I will be doing alot of walking. I also walk 3-5 miles 4 mornings a week before work, in these shoes.. How can it get any better than that! Plus they are really cute!!

Reviewed by Working in Colorado from Colorado on Tuesday, November 5, 2013

This is my second pair of these Tevas. I bought the exact shoe last year for work. They were great; so I was glad to see them again now that I need a new pair of work shoes!

Reviewed by the cats outside from oregon on Friday, October 18, 2013

Bought these for a trip to Belize but fell ill so they stayed in the closet. Moved over to coast awhile later and wore these just up and down a gravel trail, a staircase, and then the sole started coming apart. It's a glued on sole and portion that is dark pulled away from lighter color at ball of footbed on outer edge. They are very light shoe as far as weight, but the quality is very poor and no durability. Just glad I wasn't in Belize with these on my feet. Will never purchase Teva brand again.

Reviewed by May from California on Thursday, October 3, 2013

Good hiking shoes for narrow feet! I went hiking in Grand Canyon and Yosemite in these, and it worked out really well. These shoes are light weight with excellent traction. I ordered my normal size for laze up shoes, but a half size larger would have been better.

Reviewed by Sunny day walker from Iowa on Thursday, September 26, 2013

Trail shoe uncomfortable and tight around the foot....there was very little padding inside the shoe and very stiff..!! Size was not true runs small..! Color is strange...

Reviewed by Auda from Clovis, NM on Thursday, August 29, 2013

Nice fit and looks good with jeans.

Reviewed by novice hiker from Colorado on Tuesday, August 13, 2013

I hiked 9 miles on a Rocky Mountain trail in these shoes and had no problems and no blisters. Very comfortable.

Reviewed by NEOhio from NE Ohio on Friday, August 9, 2013

These shoes are very comfortable with little break in needed. The support is fine for walks but not so much for long days on the trail. They fit true to size.

Reviewed by Skiingjill from Colorado on Friday, June 7, 2013

Nice shoe that required no break in. Has adequate arch support, good tread, roomy toe box, and good breathability. Attractive and lightweight too.

Reviewed by DeeAnnyoakley from Wyoming on Wednesday, May 29, 2013

I am so very pleased with these shoes. I am an avid KEEN fan and usually never stray. I've had reconstructive surgery to my feet and required a special type of shoe. KEEN being one my Orthopedic Surgeon recommends. I thought I might give these a try as an alternative. Very nice! They fit true to size, and comparable to what I'm used to in KEEN . I walk a lot in my profession so taking care of my feet is a priority. I was so excited, I got this pair and two other different brands I usually buy for the price I typically pay for one pair and the sale rep that helped me was so friendly; we had a therapeutic shopping experience lol! Thank you STP!

Reviewed by WyoJen from Wyoming on Tuesday, May 28, 2013

I usually get Vasque because the size always fits but there wasn't a decent selection; so based on reviews I'm trying these Tevas. They're definitely worth the price here at Sierra, and they fit comfortably. My only complaint is the outer sole is stiff & hard and 'clomps' when I walk, rather than the quiet of a running shoe. Otherwise they're good.

Reviewed by Jessilani from Hawaii on Friday, May 24, 2013

Overall, this is a very nice shoe. It is well made and cushioning is good. The only issue that I have with the shoe is that the toe box is small and the shoe fits narrow. I usually wear size 7 but ordered a 7.5 based on reviews and the toe box was still too tight. Unfortunately, I have to return these.

Reviewed by N28GKS from California on Wednesday, May 22, 2013

Comfortable great looking shoe that fits perfectly. No blisters or sore spots walking in them for 3 miles the first day. Bought them for upcoming hiking trip to Peru.

Reviewed by Working in Colorado from Colorado on Sunday, May 12, 2013

I got this as a work shoe. I do a lot of walking and needed something that was lightweight and had support. I had never worn Tevas. These are lightweight but very supportive and comfortable. They are true to size. My foot is on the narrow side-- esp my heel-- but these fit great. The only thing I notice is that the sole is noisy when walking. I ordered the blue but looks more like purple to me. I love them:)

Reviewed by djz from Mid-Michigan on Friday, May 10, 2013

I'm on my feet all day outdoors. These shoes have good support and are lightweight. I would buy them again. Sizing seems right on the money

Reviewed by Sabina Frey from Vail, CO on Wednesday, May 1, 2013

The most comfortable hiking shoes I've ever had!

Reviewed by karen1 from Georgia on Thursday, April 25, 2013

Great lightweight shoe for hiking off the beaten path.

Reviewed by Andrea from Pennsylvania on Thursday, April 25, 2013

There's really no complaint with these shoes. They are comfortable and fit right. I purchased the Teva Sky Lake Trail shoes last year and they were absolutely the most comfortable shoes I've ever worn so I was looking for something similar and these are a pretty even match, just a little bit higher in the ankle. I walked 4 miles in them the first time I wore them and had no issues whatsoever.

Reviewed by Nurse deb from Virginia on Tuesday, April 23, 2013

I bought this shoe for work. I stand on my feet on concrete floors and really needed a shoe that is comfortable and approved to be worn at work. It gets me through an eight hour shift!

Reviewed by Linda H from CO on Saturday, April 20, 2013

Fit is true, shoes are comfortable right away.

Reviewed by Outside mostly from Bemdiji, MN on Saturday, April 20, 2013

These are about my most comfortable pair of shoes. I did take out the insole and put in my own, though. Wear them often.

Reviewed by sweetmidge from Ocean Shores,Wa on Thursday, April 18, 2013

These shoes are so comfortable. Love the color.

Reviewed by ahimsa33 from Flagstaff, AZ on Thursday, April 18, 2013

Loves these shoes! Bought three pairs because they're on clearance! NO need to break in, they fit perfectly first time. Only issue is that after a year of wearing my first pair, the area where the back heal touches wore away leaving a very painful plastic piece that rubbed against and cut my Achilles tendon (or the outer part anyway?) Could be my feet though, who knows. I still love the fit and style though, just wish that part were a bit more durable!

Reviewed by forestrod from Georgia on Wednesday, April 17, 2013

Great shoes especially for the price. Awesome.

Reviewed by Deb from Nevada on Wednesday, April 17, 2013

I do most of my waling on gravel roads so I want a shoe that cushions my foot. This shoe does that with plenty support and good looks too. I had recently purchased NB walking shoe but this shoe out shines them by quite a lot. I haven't had these shoes long so I can't report on how long they hold up but for now I am very pleased with this shoe.

Reviewed by Outdoor Lover from Maryland on Tuesday, April 16, 2013

Love it!!!!

Reviewed by KathrynK from Massachusetts on Tuesday, April 16, 2013

I guess I may have sensitive feet with certain hot spots as my husband calls them. Tried two pairs and get the same spot that causes discomfort. Right shoe just below the toe. It's a shame, I love the shoe and the price is fantastic but they just aren't for me.

Reviewed by Scriv from NC on Tuesday, April 16, 2013

Great on pavement or on the trail. This is a very comfortable, sturdy shoe.

Reviewed by Jozann from VT on Monday, April 15, 2013

I got a half size larger and they perfectly. The shoe isn't very padded and the back jabs a speck into my tendon but haven't broken them in yet. I am very happy with them, will use them for dirt road walking and gardening.

Reviewed by WV rafter from West Virginia on Thursday, April 11, 2013

Very nice looking shoe. Comfy and true to size.