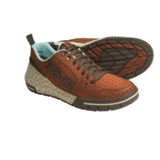 Closeouts. The evolution of water shoes has begun, and Teva's Gnarkosi is at the forefront! Designed in collaboration with professional wakeskaters, this shoe is ready to be rocked all the way from the creeks to the dance club. Its Drain Frame perforations in the toe and heel drain water like a sieve.
Average Rating based on
55
reviews
4.563636
0
5
Verified Buyer

Reviewed by AZJustin from Arizona on Monday, June 9, 2014

When I received these shoes I was impressed by the looks and lightness of them. My Arizona summers are usually filled with a lot of wake skating and water hikes, which these shoes would be great for. After wearing them for a few days I was very disappointed that my feet were not liking them too much. After coming home at night, my feet would ache all the way until the next morning. This is the first pair of shoes that has done this. I am pretty sure it is the arch support and stiff sole that is doing it. I am sad to have to sent them back.

Verified Buyer

Reviewed by Hue G from Ca on Monday, June 2, 2014

These shoes are very comfortable and my wife liked their looks so much she made me buy another pair. I wore these on the Yampa river and The San Juan river a few weeks ago and they preformed very well. I am very satisfied with this product and recommend them for both casual and wearing on the river. They are too big to wear in my kayak but are great rafting shoes.

Verified Buyer

Reviewed by DLF from Rocky Mountains on Thursday, May 1, 2014

These are good enough to wear to work on casual Fridays, and then to ford a creek on the weekend. I think they look sharp, too.

Verified Buyer

Reviewed by Hue G from California on Thursday, April 17, 2014

I wore these shoes for the first time yesterday and they were very comfortable. I normally wear a 9.5 but bought a size 10 after reading reviews. They are a bit narrow and I'm glad I bought a half size larger. I am going to buy another pair I like them so much, and my wife liked them too. I have yet to wear them on the river, which is why I bought them and will update this review when I get off a 7 day Yampa river and a 7 day San Juan back to back river trip.

Reviewed by Reid from Missouri on Sunday, March 30, 2014

These shoes have been great so far. Good ankle and arch support. Also, great grip on wet surfaces!

Reviewed by JA Rake from Bend, OR on Friday, October 18, 2013

Bought a pair for an 8 day float earlier this summer. They were so comfortable and (stylish I guess because some young women commented on my SICK Tevas) I wanted to be sure I had another pair. They run a bit big which was fine from my 9.5 EEE foot (bought 10s) and easily accommodate a thin water sock. They absolutely do not allow pebbles into the foot bed and offer great underwater grip. I found them superior to Keen's in every way.

Reviewed by Water stuff, yai from na on Thursday, September 12, 2013

I had bought a first pair. I bought a second pair. And a third pair I would have purchased by now if only I could find the white color style in my size. Why? Because I swim often. Besides I don't like wearing socks and so it works out out in rainy weather. Surprisingly there more than alright in comfort. One of the best shoes that I've worn with great arch support and heal support stabilization. Yes, really, no joke. And can you imagine that there manufactured in china! Ch-Ch-Ch-china! There sturdy and I would recommend to 'skaters, etc.' because, quite so, those flat shoes that they wear or are sold as 'skater shoes' (rather)-or whatever- are junk compared to these; although they are much fancier looking, however I must admit. Some say that wearing these without socks causes abraisons, etc. That is right, but only initially. The skin gets tough then. But I don't mean rough and dry looking. It just gets tough like 'knuckles' tough...Nontheless, only after you've bled...and healed. So if you would like to go sockless, and not be a wimp about it, be my guest.

Reviewed by Hoary Bat from the wilderness on Monday, September 9, 2013

I've had these kicks for 4 months and they have been great for me. For work I oftentimes wear these in steams where the design does a pretty good job at keeping bigger stones and sand from getting in through the top. I dropped one in deep water and I found out they float, saving me a swim. The drain frame works excellent and pushes water out of the shoe before you land your next step in ankle high water. The insoles are glued in well, dry pretty fast and are comfortable to walk in on all surfaces and even when wet. The shoes don't chafe my ankles or give me blisters when wet.

I've played many rounds of disc golf in them and they've held up fine on wet grass and cement. The Spider Rubber does pretty good on most surfaces, but I did wipe out one time after rain on a slippery/oily blacktop lot. Sometimes it seems the shoe could have had a bit more tread. They do an excellent job at keeping my feet dry and aired out. I wear my black pair of these bad boys on the hottest and most humid days.

Plenty of compliments from friends and coworkers.

Reviewed by susieq from Arkansas on Thursday, September 5, 2013

Bought these for myself, and then found out how comfortable they were, so I bought my husband and son a pair. Haven't tried them in the water yet, but for everyday walking these have the best support and our feet weren't tired at the end of the day.
Great Shoes! Fantastic price for the money.


Reviewed by Marvin from Wisconsin on Tuesday, August 20, 2013

These shoes are hefty! The first couple times out of the box they feel like the box. Eventually they break in. I use them alot canoeing. Its nice to be able to walk out and keep the boat off the bottom. They definitely maintain their shape and dry out quickly. A much better solution for all day water sports than sock type water shoe.