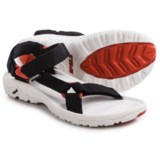 Closeouts. Breeze through your warm-weather activities in the comfort and security of Teva's Hurricane XLT sport sandals, made with a grippy Durabrasion rubber outsole and three touch-fasten straps for a customizable fit.
Average Rating based on
325
reviews
4.600000
0
5
Verified Buyer

Reviewed by Windjammer from WI on Monday, December 5, 2016

This is about my 5th pair of hurricanes have been wearing them for years there is no comparison to any other sandal for hiking, canoeing or whitewater rafting. In my opinion these are superior

Verified Buyer

Reviewed by Woodrow likes Stomping from Arkansas on Tuesday, November 8, 2016

I've had my first pair of Teva Hurricane XLT's for several years, and they are still kicking some serious behind! I bought another pair, of a different color recently, (my girlfriend is very fashionable, and wants me to be as well) and I am even more impressed than I was with the first pair. Teva has upped their comfort game with softer straps than my old pair, while still maintaining the structural integrity and sheer ruggedness that made me fall in love with the XLT's in the first place. Buy these.

Verified Buyer

Reviewed by Addison from Florida on Monday, November 7, 2016

These are not as solidly built as the Terra-fi model that is my usual choice, but for the price they are good value. The fit is the same as the Terra-fi, butbthe sole feels softer so durability could be a problem. Otherwise I am satisifed with the product and the service from Sierra.

Verified Buyer

Reviewed by zstelling from North Carolina on Wednesday, September 28, 2016

I bought a pair of these in US12 - my normal shoe size - because I need a hiking/camp sandal for a trip to lowland Guatemala. In the short time I've owned these, I have to say that I hate these sandals more than any footwear I've ever owned.

PROS:
- These were more comfortable than my heavy boots while walking in dry dirt.
- Felt much lighter on my feet than boots.

CONS:
- These slipped all over the limestone at Tikal - both dry and mossy. The sole is pretty inflexible and doesn't grip anything well.
- The footbed is incredibly slippery while wet or muddy. These are impossible to walk in while wet despite how tight you make the straps. They slipped so bad that my heel launched forward and out - out the left side of the sandal. I nearly twisted my ankle a few times with the same issue. This slipping problem was so horrible that I had to retire the sandal and walk barefoot.
- I cannot emphasize the above point enough. I couldn't even walk around the hostel after a shower in these [...] things.
- The footbed separated in some places from the lower bed just after a walk around Flores. Bad glue. Bad design. No bueno.
- The backstraps feel unequal in length. I had to tighten the right-foot backstrap to the point where the end of the strap overshot the end of the Velcro by 1.5"
- There is a hard plastic connector that rubs against the inside of your foot near the heel. I got used to it after a few km, but it is never comfortable and sometimes painful.
- The toebed felt quite wide, especially on the right, looser, sandal. My feet are the same length and width so I know it's not a me problem.
- There is no arch support on these and they are also so thick that they'll never have a minimalist kind of feel, so no bueno. These allow my somewhat collapsed arches to collapse entirely into the shoe, meaning I'm walking improperly. I have re-learned to walk with an arch in my foot (i.e. disallow my foot from rolling in and landing flat) while barefoot, in flip flops, and in some decent shoes. These let my foot collapse. Not necessarily uncomfortable, but really really bad in the long run.

TL;DR: These sandals suck. They are slippery and uncomfortable. I have read some success stories about the Terra Fi sandals. I may try those.

Verified Buyer

Reviewed by Rich from Fern Creek from KY on Sunday, September 11, 2016

Not top of the line Tevas, but still good, solid, comfortable sandals. Also, I was able to purchase these at a deeply discounted price.



Verified Buyer

Reviewed by Sandy p from Oregon on Tuesday, August 23, 2016

I got these sandals to keep up with my girlfriend while hiking- and it totally worked! We've gone to the river several times, climbing cliffs to jump off of etc. and these sandals can handle the challenge.

Verified Buyer

Reviewed by Eileen from Pennsylvania on Tuesday, August 23, 2016

So comfortable. Three different adjustments for perfect fit. Tuff shoes that are soft on the feet. Probably my 10th pair over the years, mostly because I want a different color.

Verified Buyer

Reviewed by Rob from Florida on Wednesday, July 6, 2016

I have worn several iterations of this sandal and recently purchased this latest one. Though the color scheme was not my first choice and the one that was my choice was not available in my size, I am very pleased with the product. It is very comfortable with good arch support, cushioned feeling whenever walking on firm surfaces and great grip on slippery surfaces. Prior sandals lasted forever but the Velcro finally gave out. Sand from rivers and salt water from ocean and beach have not stopped this sandal's performance.

Verified Buyer

Reviewed by Old Shopper from Eastern Washington State on Wednesday, June 1, 2016

I usually wear a size 15 in athletic shoes, so I ordered these sandals in that size. They were at least one size too long and seem to have been more like an EE width, not medium. I had to send them back. By the time I received them, STP had cut the price and sold out all the smaller sizes, so I can't say how they would have fit. I own one pair of Teva sandals that do fit but I am not sure what size they are.

Verified Buyer

Reviewed by Willie C. from Athens Ga on Tuesday, May 24, 2016

Good fit, but you have to retighten them often. Look just like photo. Good buy!