Teva

Sizes

Gender

Style

Colors

Reviews

Events

Prices

Popular Teva Products

Search Within

When a young river guide named Mark Thatcher started building his own sandals back in the 1980s, he had no idea his creation would eventually become a household name in the outdoor footwear industry. Today, Teva sandals are considered a pioneering force in go-anywhere utility. From muddy river bottoms to dusty trails to city sidewalks, Teva shoes and sandals are designed to provide the ultimate mix of lightweight support, superior traction and unique style. Over the past quarter century, Teva footwear has expanded its hybrid roots, defying the limitations and taking on new territory. With grip
... Learn more about Teva
py rubber outsoles and anatomically designed footbeds, Teva sandals and shoes provide the support you need to paddle, hike, explore and generally have a blast outside. ... Less
About the Teva Brand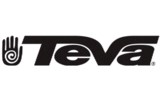 Verified Buyer

Reviewed by Annie from NYC on Saturday, September 24, 2016

These sandals are comfortable for flip flops. I get lots of compliments. They are not for long wear but nice for a summer season. I like the slight wedge heel-- you can dress up or down. Order size up if between sizes. Good value for the price.

Verified Buyer

Reviewed by Marina from Mexico on Saturday, September 24, 2016

I ordered these shoes last minute after having ordered and returned the Teva Freewheel Washed Canvas shoes.(http://www.teva.com/women-shoes/freewheel-washed-canvas/1004217.html) I returned the Freewheel Washed Canvas because they were absolutely not my style after seeing them in person. Later that day I discovered these Teva Willow Lace Canvas Sneakers & I fell in love!

One thing to note: Order a half size up! I ordered 7.5 when I am usually a 7 and I'm so grateful for sizing up! They are a perfect fit & I wear them everywhere, everyday.
I lived barefoot for a few years, transitioning into shoes by wearing Vibrams for a while & this shoe is my first REAL shoe and they are perfectly comfortable!
Don't step in a puddle though (or any body of water), as the shoes are definitely not water resistant at all.

Verified Buyer

Reviewed by Nancy from Adirondacks on Saturday, September 24, 2016

Love the fit and color, not crazy about the plastic d ring hope it doesn't break.
Receive email updates for new Teva items