Teva

Sizes

Gender

Style

Features

Colors

Reviews

Events

Prices

Popular Teva Products

Search Within

When a young river guide named Mark Thatcher started building his own sandals back in the 1980s, he had no idea his creation would eventually become a household name in the outdoor footwear industry. Today, Teva sandals are considered a pioneering force in go-anywhere utility. From muddy river bottoms to dusty trails to city sidewalks, Teva shoes and sandals are designed to provide the ultimate mix of lightweight support, superior traction and unique style. Over the past quarter century, Teva footwear has expanded its hybrid roots, defying the limitations and taking on new territory. With grip
... Learn more about Teva
py rubber outsoles and anatomically designed footbeds, Teva sandals and shoes provide the support you need to paddle, hike, explore and generally have a blast outside. ... Less
About the Teva Brand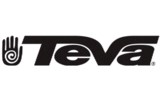 Verified Buyer

Reviewed by Mariel from Texas on Sunday, July 24, 2016

I love these sandals. I got them for a Costa Rica trip, but even in the city are good!

Reviewed by Paul from Pennsylvania on Sunday, July 24, 2016

Absolutely love these sandals. The most comfortable sandals I've ever owned, and good looking too. Wore them on a recent trip to Disney World. We walked a total of 9 miles in the midst of a Florida heat wave. These were comfortable the whole time. The perfect choice in footwear for that day. They are true to size or at most a 1/2 size smaller. I usually wear an 11 or 11 1/2. I got these in an 11 and they fit perfect. Sierra has been selling these at such good prices that I bought a second pair. Don't pass these up, you're getting a really nice sandal at these prices.

Verified Buyer

Reviewed by Lynn from Sunny Florida on Saturday, July 23, 2016

I originally bought these for a European trip next year. I' decided to wear them on a practice run. Decided to try them on an all-day walking jaunt. They aced the test. No blisters, no uncomfortableness, no pinching. I wish all my shoes fared so well.
Receive email updates for new Teva items