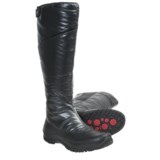 Closeouts. The North Face Anna Purna Tall Zip winter boots are the fashion-forward way to keep your feet toasty warm and dry through winter's worst, with a waterproof leather foot, PrimaLoft® insulation and a WinterGrip® outsole for confident traction.
Average Rating based on
8
reviews
2.625000
0
5
Reviewed by montanasue from montana on Thursday, March 13, 2014

Had to order them a half size bigger for a better fit and so they wouldn't rub in that spot eveyone's talking about. Also they are more of a pink than the red shown in the pic. They are great for a wintery slushy day though but not super comfy either.

Reviewed by Stephanie from Buffalo on Friday, February 28, 2014

The other reviews about tight fit, back zipper comfort were dead on. In addition, I didn't get a sense that they would be as warm as I would like. I was trying to find something that was moderately stylish, but also warm and not too cumbersome to put on. A tough combination, but I'll keep looking.

Reviewed by Brooklyner Looking for Snow from Brooklyn, NY on Saturday, December 14, 2013

I got these boots in Feb of this year and never got to wear them until this winter. I finally wore them in our first NYC snow, and they are awful. Not very cushioned, and they gave me blisters on the backs of my ankles in no time that have lasted a week! Thankfully, STP is taking them back, despite all the time that has passed.

Reviewed by Nixster from NYC on Tuesday, November 26, 2013

I had to return these due to the fact that they created blisters within 1 hour of wear. I think the design flaw is the zipper in the back. It dug into my ankles. I brought them to a cobbler to see if they could be altered because I really liked the boots. His response was that he was dissatisified with the quality of the outside waterproofing as well as the design flaw. The vinyl on the exterior is thin and fear they might tear within one season.

Reviewed by SurferScientistGirl from NJ on Wednesday, November 13, 2013

not stellar, but OK. I can see what folks are talking about- when you zip them up the back, one can feel the zipper at the location of the achilles tendon. it was subtle for me, but for others, it really comes into contact. Sized well. The boots are very functional.

Reviewed by Urban Hippie Buddhist from Indy, Indiana on Tuesday, November 12, 2013

I was very excited to purchase these. They were exactly what I was looking for; lightweight, durable, and waterproof. However, I could not seem to get them to zip up over my calves. I have athletic legs, very lean and muscular, and it was a shame because I was hoping to replace my Patagonia winter boots.

Reviewed by AmyBordy from Syracuse, NY on Thursday, May 2, 2013

Although the "fashion-forward" description was an exaggeration, I still liked the boot. It was true to size. We are past winterboot season so I cannot answer to performance.

Verified Buyer

Reviewed by Bootsy from NY on Monday, February 18, 2013

I bought these boots because I needed a good winter boot that I could wear for business in the city. These are great: lightweight, warm, non-slip, slim profile, etc. The downside is that it causes blisters where the zipper hits the ankle (above the rubber bottom and where the lightweight shaft begins). You have to be kind of creative (sweatband around ankle?) to protect it with somethng thick enough so the zipper doesn't rub you raw. Other than that, it's a great boot.