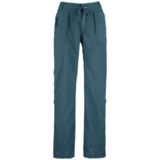 Closeouts. A great choice for hiking or casual wear, The North Face Horizon Tempest pants are made of quick-drying ripstop nylon with roll-up legs and a gusseted crotch for excellent mobility and versatility.
Average Rating based on
41
reviews
4.170731
0
5
Verified Buyer

Reviewed by Suzie Bonney from Snohomish on Saturday, March 28, 2015

These are nice pants. I have no complaints. Nice lightweight but tough fabric.

Reviewed by JGG from Chicago on Sunday, December 15, 2013

These pants are very comfortable and performed while hiking. I ordered up a size and that worked well.

Reviewed by Annabelle from Oregon on Monday, December 2, 2013

They weigh only half of a pair of jeans. Good comfortable fit. I like the quickdry fabric. The only thing I'd change is the pockets; they aren't quite as deep and roomy as I like.

Reviewed by D.Y. from Las Vegas, NV on Friday, November 29, 2013

Pants seemed well-made, but they had a very strange fit for me. They weren't too big or too small, just awkward. I had to return them.

Reviewed by Kara J from Texas on Friday, November 8, 2013

I tried these based on really positive reviews. Definitely not for me. Since they are nylon, zero stretch (as expected) but the fit was off. Have never tried North Face pants, I guess not for me. I am 5'7" 134 lbs. Tried the 6. Way too small. But I don't think an 8 would work because of the cut: my thighs were super tight but but and waist not too bad. Have to send them back. Will stick with pants with a little bit of stretch.

Reviewed by new jammies from US on Thursday, October 24, 2013

I can see where these might not work well on curvy ladies with hips, but I thought they might work for me. I still sized up because I expect issues with the waist, but the first pair I received were overall too big through the midsection. The drawstring helped some, but the sizing through the hips was still a problem. I exchanged those for one size down. While the smaller pants fit better in the hip and through the legs, they were tighter in the waist than I would prefer and they didn't look right across the belly. The side pockets wouldn't lay flat which made the pants look altogether dumpy. There was no give in these pants when I raised my knee up. On the plus side, these were available in a short length which would have made the pants work for me if not for the waistline. These are going back, too. Recently, I also ordered The North Face Paramount Peak Pants - UPF 30, DWR, Convertible (For Women) in the same size as the first pair of Tempest pants I bought. The waist of the Paramount Peak pants fit fine and the length is okay. There is a lot of volume in the legs of those pants and they are loud, but I'm dealing with it. I'll be glad in the winter when I can easily throw on some thermals under them. Still in search of a nice-fitting pair of hiking pants at a modest price.

Reviewed by Hate Returning from Jackson, WY on Monday, October 14, 2013

I'm curvy, 5'4", weigh 140-145# and the 10short fit me well. The stitching doesn't seem to gather at the seams, like so many lightweight sun/travel shirts and pants. I esp like the drawstring waist WITH added belt loops in case I need to carry my bear spray on a belt with these. I ordered the Dune Beige, which allows me to pack brightly-colored tops and not worry abt clashing colors. I needed to pack 7 complete changes of tops/pants in a carry-on - using travel pants made that possible, even with my other gear inside my suitcase. I'm not a fan of pants that convert with zippers, so like the roll-up option on these NF. The 100% nylon doesn't stretch, but the fabric feels strong, yet light-weight. What I would change: the button is tight, and I would prefer the pants to taper a bit more at the bottom. Well-constructed pants at a Sierra Trading discount!

Reviewed by Penguin hiker from Missouri on Wednesday, September 25, 2013

bought these a size larger so I can wear a thick base layer underneath. Wore without base layer just cinched up the waist some for hiking on the weekend- great movement and comfortable.

Reviewed by tg from North Carolina on Friday, September 13, 2013

I got my first two pair in store on sale. Sale is the only way I shop. Since then I've been searching all over for the last two. In our hot summers they are the only pant I wear if I'm not in a skirt or dress.

I'm not understanding the 'fit' issue. I'm a 4 in pants and skirts. These are plenty roomy for me. Love the drop waist and string tie adjustment. Must admit I'm not curvasious so maybe that's why I'm so happy with these.

Oh, if it does get chilly, these are still great.

Reviewed by Bonesandbrews from Seattle on Monday, August 26, 2013

I'm really glad I went and tried these on in the store first! They run a little small. I wear a size 4 or 6 depending on brand (5'5, 130 lbs, no curves) I ended up with a 6 in these. They are pretty loose in the thigh on me and tight on the waist. My bum looks awesome, however. Despite the fact that they are loose fitting, they have zero stretch to them so I think it would be difficult to do any intensive hiking. When I have worn them on hot days, I have gotten very sweaty. When it has lightly rained, they have gotten soaked. They also gather dog hair.

Despite all this, they get 4 stars because I love them. I keep grabbing them and am wearing them currently just for lounging on the couch. They are awesome for walking around, rolling around on the floor with my kids, going to the market, etc. Super comfortable. Would be awesome for camping. I don't think they'd be the best hiking pants, but they certainly wouldn't be the worst and I intend to use them for that. Plus the Weimaraner brown color matches my North Face Hedgehog III light hiker shoes perfectly, which is an added bonus.