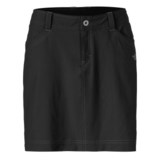 Closeouts. Anything regular shorts can do, The North Face's Taggart skort can do better -- with help from quick-drying, four-way stretch nylon and built-in shorts for modesty and coverage.
Average Rating based on
13
reviews
4.153846
0
5
Verified Buyer

Reviewed by Layla from North Carolina on Saturday, June 13, 2015

Perfect for summer. I had a black Northface scort which I've owned for 6 plus years, at this point it's pretty faded, but still well loved. I decided to get brown and I'm so happy with my purchase. It's cute and comfortable.

Verified Buyer

Reviewed by Intraining from North coast on Monday, November 17, 2014

Very comfortable

Reviewed by Maine Mumsie from Maine on Sunday, November 9, 2014

I purchased this for a recent trip to the Bahamas. What a great travel piece. Came out of the suitcase looking fresh. Fit perfectly. I bought a size 6. I'm 5'4", slim through hips, not much of a butt, but at age 55, I've got the "middle age pudge" around my waist. Weight runs 117-120. The built in shorts give you a nice feeling of support and control. There is a weird little opening in the shorts near the fly, but it doesnot show when you snap and zip up the skirt. It is sort of like the "drop hatch" in a union suit. The length of the skirt is nice. Not too short , but not matronly either. I wore this both with T shirts for casual wear and then dressed it up with a tank and sweater twin set for an early casual evening. I hope they continue to make this in more colors.

Verified Buyer

Reviewed by biking peddler from Florida on Wednesday, August 20, 2014

Comfortable, stretches to fit and washes by hand and looked like new. Would buy more if had in different colors.

Reviewed by casualgirl2012 from Washington on Thursday, July 31, 2014

I was specifically looking for a semi dressy skort to wear with summer tops instead of shorts. Based on the reviews, 4 stars, I thought I'd give it a try. I purchased both the "Weimarnr Brown" & "Black." Both are matte in color probably because the material of the skirt is a stretchy nylon, which is what I wanted & the shorts underneath are a nice spandex. Looking at the sizing chart, a size 10 is what I should've ordered but after reading the reviews, I bought an 8 in both colors. I'm 5'4", my waist is about 32", my hips are about 39" & I'm approximately 140lbs. The 8 fit me perfectly! This skort doesn't flare out at the hem, it actually tapers in a bit but not to the point that you can't move around. I think because the shorts underneath are made of spandex, it's very comfortable, you don't have to worry about panty lines & because of the combination of the material that the skort is made of, it makes my rear look very small. This skort looks great with summer tops, not athletic looking. The only negative is that under one of the side pockets, there's the North Face logo which in a way can give it a sporty look, I'd prefer that it was just plain. I still love this skort & ordered 3 more. Sorry that this review is so lengthy but, I feel that it can help you to decide on the size & if a skort is what you're looking for.

Reviewed by PDX biker Chick from Oregon on Monday, June 9, 2014

I bought one of these at a local store so I got to try it on, like it so much I ordered 3 more from Sierra Trading Post. First of all, the fit is a tough one to describe. Clothing sizes are completely random anyway, so I need to try everything before I buy. I went jeans shopping a few weeeks ago and found I could fit into everything from a size 4 to a size 10. (I'm 5'7" 135lb)
I bought this skort in a size 8 initially and thought it was too loose, so I tried a 6 and it was WAY too tight - gave me a "muffin top" and was really snug around the hips and thighs. After wearing the 8 for a day, and going hiking with it on, I decided I love the loose fit - it sits below my waist, but not quite a hip-hugger. The cut is flattering, and the inner shorts are comfy and soft.
I have worn this hiking, walking, shopping, to a ball game, and out to a casual restaurant - it's a great garment that pretty much goes everywhere I need to go!
I bought the black and the brown - I am still not crazy about the top-stitching on the brown, it's a little lighter than the fabric, but I still like the skort. The black is solid black and the top-stitching is the same color as the fabric.

Verified Buyer

Reviewed by Mary from Boston on Wednesday, June 4, 2014

Great skort, nice midthigh length for me, looks good for casual wear. The attached shorts are a bit like bike shorts and are a little tight on my muscular upper legs, but not a deal-breaker. I am ordering another pair!

Verified Buyer

Reviewed by Mountain Girl from Montana on Thursday, April 24, 2014

I love skorts, and currently have many different types and brands. I found this skort to have a few problems--at least for my taste. First of all, the overall product was much too short--a miniskort, if you will. Secondly, the outer "skirt" part was a bit snug (I ordered a size 10, which is a standard size for me) but would have worked fine except the inner "skort" part was too loose and baggy. The built-in shorts need to be much more "compression" type shorts--like work-out shorts for this skort to work. I returned it.

Reviewed by SplashingB from CA on Friday, April 18, 2014

I was very surprised to find the shorts underneath have a big opening in front to accommodate a male appendage. I am returning the size 6 skort because it was too short for me at 16" long and does run a little small, but personally I think the North Face is taking this unisex clothing thing a bit too far.

Reviewed by mhancoberry from Mississippi on Wednesday, March 5, 2014

I had seen this skort at a local store and knew I wanted one. To find my size, I tried Sierra for the first time. I was not disappointed. It is perfect! I love the style and fit. I will get a lot of wear out of this.