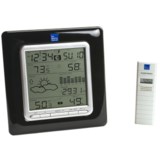 Closeouts. Weather bugs can have forecasts at their fingertips -- including barometric pressure -- with The Weather Channel's Wireless Forecast Station.
Average Rating based on
29
reviews
4.310344
0
5
Reviewed by Cyndiann from Western NY on Thursday, January 30, 2014

I have had this weather station for a couple of years. It has been reliable. The outer black trim is a bit bulky looking but otherwise the appearance is nice. I often check it before dressing to leave the house so I know how many layers to wear. The humidity feature for indoors helps me to regulate my furnace and humidifier/dehumidifier. I like having an easy reference for the moon phases. I don't use the alarm feature. I have had friends comment on it and just bought another as a gift.

Reviewed by Rocky_Mtn_Man from Colorado on Saturday, January 25, 2014

Not too bad. This is my first weather station and other than it took a couple tries getting it to synch with the transmitter, It's pretty easy to set-up and read. Only real complaint is that the display doesn't illuminate.

Reviewed by Tom from Colorado on Saturday, December 21, 2013

Very easy to set up, easy to read, accurate. The only entry you make when setting up is your time zone. Everything else is done automatically. Note the units do not include batteries - you will need 2 "C's" and 2 "AA's" - good to know if giving as a gift. High quality and large 8*8 size. I couldn't be happier with this purchase.

Reviewed by Tom from Michigan on Wednesday, November 20, 2013

Excellent product, easy to install and use, would highly recommend to others.

Reviewed by Amy in MA from Western Massachusetts on Saturday, November 2, 2013

A replacement for an older weather station - was super easy to set up, outdoor monitor fits the old bracket, indoor reader set itself perfectly. Love that this one has outdoor humidity reading. The indoor display is a bit bulky and not as attractive as my old one, but the features far outweigh any lack of attractiveness.

Reviewed by Weather lover from Western Mass. on Thursday, October 3, 2013

It's a little difficult finding a place to locate the remote temperature/humidity sensor where it is protected from the rain yet will give good, relevant data. But it was easier to set up than the instructions made it appear. It seems to be providing accurate info so far, about 2 weeks in.

Reviewed by Phill's Dad from New York City on Tuesday, September 17, 2013

I have another weather station that is nearing the end of its useful life and wanted a good replacement. The indoor/ outdoor humidity feature on this was appealing. Station went together well, although I had to hand set the time before the automatic time set feature was accurate.

The issue for me with this station is that, in order to get as much information on the screen as possible, the text is too small to read unless you are right next to the screen. Even 6 feet away, the screen was difficult to read. I returned the unit.

The unit would be ood for a desk top, or where you are right in front of the screen when reading it.

Reviewed by WindSock from SouthCentral PA on Thursday, September 5, 2013

Functionality is ok in the sense that it sets the time to a highly accurate source...however, one must realize that this signal is bouncing off the ionosphere...which is way-way up there. Thus if, you are in an area that is compromised by ambient disturbances such as foul weather and/or tall buildings, setting the time function and synchronizing for the "hand-shake" signal from Colorado may require more patience than many may have for this sort of thing. That said, one can always set it manually & then it operates like a quartz battery operated clock. However, its potential to offer you barometric changes and other key weather data would therefore be compromised by its inability for to perform this way.

Additionally, I have found the temperature & humidity readings to have a noticeable margin of error. Thus, I've taken way 2 stars as it functions more in a novelty manner than a precise instrument. But on the other hand, for under $60 there isn't much out there that one could consider a precise meteorlogic
device!

Reviewed by BostonBena from Lost in MA on Thursday, August 8, 2013

This is our second Weather-station, the first one was a bit finicky, if it fell over the display would fade out and we would have to join the two devices and re-pair them, it was a pain in the butt... The thing chewed through batteries and not at a regular rate. Then the sensor just died one day...

So, we are on number two... It was easy to setup, the display is easy to read, much easier than the old system... Now lets wait and see how long the batteries last...

Reviewed by New Orleans Native from New Orleans on Saturday, August 3, 2013

This wireless weather station from the Weather Channel was a gift for my husband who loves all things weather-related! He immediately opened the package when it arrived and set it up the next morning as the sun already had set. He attached the outdoor sensor to a post on our pergola which he can easily see while he is working outside. Very easy set-up. Great weather station! It is awesome.