Therm-a-Rest Luxury Map Inflating Sleeping Pad - Large
Item #5237V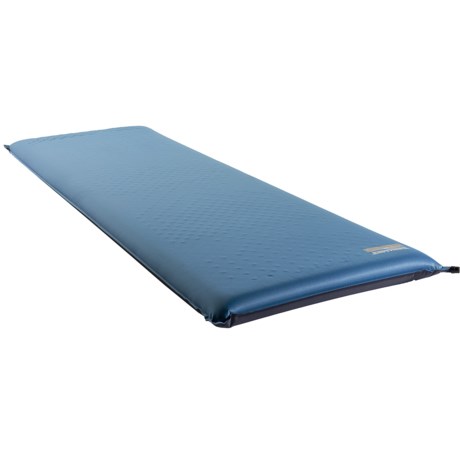 Overview
About Therm-A-Rest Luxury Map Inflating Sleeping Pad - Large
2nds. With the help of digital pressure mapping, Therm-A-Rest's Luxury Map inflating sleeping pad drastically changes your outdoor sleeping experience for the better. The innovative design places die-cut foam in high-pressure areas for ultrasoft cushioning, and full-density foams to support low-pressure areas.
Designed using digital pressure mapping technology to identify common areas of pressure
Foam padding is die-cut in high-pressure areas to decrease the soften pressure points for comfort
Full-density foams provide increased cushioning, support and warmth in low-pressure areas
Extra thick to provide insulating warmth
Stretch-knit polyester fabric cover
Durable non-slip textured polyester bottom keeps pad in place
Made in United States of America
Specs
Specs about Therm-A-Rest Luxury Map Inflating Sleeping Pad - Large
Sleeping pad style: Self Inflating
Shape: Rectangular
R-Value: 6.8
Insulation: Closed-cell foam
Weight: 4 lb. 8 oz.
Dimensions (LxWxH): 77x25x3"
Packed size: 25x6"
Recommended Use: Family camping
Material: Polyester
Made in United States of America
Reviews
About Therm-a-Rest
For more than 35 years, Therm-a-Rest has been innovating, researching and thoroughly field-testing their products in order to enhance your comfort level in the great outdoors, whether you're on a family camping trip or a seven-day trek to the summit of Kilimanjaro. Starting with the well-known Therm-a-Rest sleeping pad and expanding into self-inflating mattresses, sleeping bags and more, this company is all about helping people get a great night's sleep. From Therm-a-Rest sleeping bags to camping pillows to inflatable air mattresses, every product is constructed with warmth, comfort, durability and weight in mind. Stop counting sheep and treat yourself to a better night's sleep with a Therm-a-Rest sleeping pad, sleeping bag and accessories.