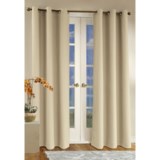 Overstock fabric. Energy-bill watchers prefer Thermalogic Weathermate grommet-top curtains because they keep your house cooler in summer, warmer in winter, and darker and less noisy year-round.
Average Rating based on
55
reviews
3.727272
0
5
Reviewed by Boulder mom from Colorado on Thursday, January 16, 2014

We got these for our Nursery and they look sharp and keep out the light well. Love them!

Reviewed by me from Colorado on Wednesday, October 16, 2013

Look great

Reviewed by vividartichoke from High desert Arizona on Monday, October 14, 2013

As others have stated, these curtains are like shower curtains in that diffused light passes through. I wanted sheer drapes for my south facing windows and these did not work. Instead of my intentions they are great on my north facing windows. I don't care if I see out these windows in the wintertime and they have a layer of plastic like material on the back. I was able to cut them in half lengthwise, iron-fuse hem to itself and have the proper length at half the price. Win-Win!

Reviewed by K from Baltimore, MD on Saturday, October 12, 2013

The curtains had an unpleasant fish odor. Airing them out did not help and I had to return them.

Reviewed by K from Maryland on Tuesday, October 8, 2013

I had to return these curtains due to their terrible odor. I know that new textiles can have chemical odor that soon off gases when they air out. However, these curtains had a strong fish odor that did not dissipate after several days. I couldn't keep them hanging in the room because the smell was too terrible. I don't know that it's all of these curtains or just mine. Perhaps something bad happened to them in the warehouse. However, they appeared to be clean, dry, and never opened.

I also wouldn't recommend these curtains just for the look/quality of the fabric. The fabric was thin and droopy. They have that plasticy liner that cheaper blackout curtains have meaning that they can't be put in the dryer or ironed. They were Walmart quality curtains for a higher price. Anyways, I'd look elsewhere for blackout curtains.

Reviewed by shebear from california on Wednesday, September 18, 2013

They have a strong odor. So before I hung then up I let them air outside for several hours. The odor remained strong for at least a week. Still some odor. They are also very wrinkled and hanging has not helped the wrinkles...I will try ironing with a warm iron only, as there is a white coating on the back that may be damaged with a hot iron. The color and performance works for that window so I am willing to try to remedy the wrinkles. The workmanship and quality of the grommets appears good and I would have given a better rating if not for the odor and wrinkles. There were no directions on the package to indicate best method for getting wrinkles out.

Reviewed by Pat from Florida on Tuesday, April 23, 2013

These curtains had a terrible smell to them. I aired them outside overnight and still could not tolerate the stench. I sent these curtains back.

Reviewed by Stankdrape from NC on Thursday, April 18, 2013

Truthfully, I was a thrilled at the value when I ordered these curtains, however when they arrived I was a bit annoyed.

First, the color of the Sage is closer on the spectrum to blue rather than green as I was hoping - no biggie though.

Second, the horrendous smell of the curtains. We have 8 panels in a large sunny room and when I hung them the place wreaked of fish - go figure. It's been about a week and the smell has not yet subsided. I guess it's the synthetic backing or perhaps the dye, but I'm hoping once we open some windows (can't right now due to spring pollen) and air out the house the smell will go away permanently. Glad I don't have a cat.

Third, they look and feel like cheap hotel curtains - I talking motel 6. I guess it's the dull weave of the cotton fabric with the white backing, but they just look kinda stale and plain. If I really wanted to perfect the look, I'd stain em' up with some foreign substance.

Finally - get ready to iron - the wrinkles from the packaging have not gone away after hanging for a week. Unfortunately it looks like I'll be dragging out the steamer. Hopefully I won't melt anything.

Otherwise, they fit fine (lengthwise and width) and diffuse the light as good as expected - note they are not blackout curtains but come pretty close.

Reviewed by the night shift worker from Idaho on Friday, April 12, 2013

Perfect for day sleeping and blocking light

Reviewed by B from New York on Tuesday, April 9, 2013

great insulation. only hiccup for me would be that the measurements are slightly off because of the grommets. Make sure u have at least 10 inches more than you need in curtain width because the grommets invariably make the curtain width shorter than the advertised 40 inches per curtain.