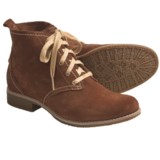 Closeouts. Melding a rugged silhouette with super cute details, Timberland's Earthkeepers Shoreham desert boots are made of supple suede and feature Anti-fatigue technology in the leather-covered insole, providing all day comfort and support.
Average Rating based on
7
reviews
3.714285
0
5
Reviewed by Alex from Moscow on Friday, October 4, 2013

Very soft suede

Reviewed by Front Range mom from Longmont, CO on Wednesday, June 12, 2013

These boots are constructed almost like a boot-style Converse high-top. The uppers are unlined, single-thickness suede and pretty unstructured, at least around the laces & ankle area. The sole is lightweight too, though comfortable. They definitely run at least 1/2 size large. I like them for casual wear with narrow jeans and pants. I took them on a trip that involved lots of walking every day, and my feet stayed comfortable. I'm not sure I'd be thrilled if I paid full retail, but at STP prices, I'm happy!

Reviewed by Ann, the orthotic-restricted from Massachuaetts on Tuesday, June 4, 2013

Very nice looking boot. After reading other reviews, ordered a half size smaller with the result that they fit well. The leather is fairly thin, but this more of what I would expect given that these are 'dress' boots rather than 'work' boots. Overall, I will enjoy weating these come Fall.

Reviewed by Laekenois Runner from Lenoir NC on Monday, April 29, 2013

I have been a loyal customer of Sierra Trading Post for several years. The deals are great,
the customer service is outstanding & delivery is prompt. I have worn Timberland boots for
longer than I can remember and have never had a complaint about the fit or quality of
Timberland products - until I purchased this boot.

In the years I have been purchasing from Sierra Trading Post, I may have returned a
few items, more for exchange than refund. Something doesn't fit, and because the deals
are so great, I find someone the item fits and just give them the clothing, shoes or boots.

These boots are so below the quality standard that I associate with Timberland Boots or
shoes, that I am unwilling to even give them away! The arch is up where the heel should
rest comfortably, the tip of the boot is a good 3" away from the tip of my toes. I couldn't even
wear these boots around the house because of the how they fit.

The suede is so thin and soft that it slouches down around the ankle. Timberland did their
customer no favors by outsourcing their boots and shoes to China.

These boots will be sent back - I won't give away a pair of boots that are unfit to wear.


Reviewed by C. from Los Alamos, NM on Monday, April 8, 2013

Reviewed by Danielle from California on Saturday, March 16, 2013

I was looking for a while for boots like these: simple, comfortable, classic. They are well made of quality materials. I think they are designed to be worn with thick hiking socks, as they are unlined on the inside and run kind of big. If you want to wear these with slim socks than I'd recommend ordering a 1/2 size down. For that reason I gave these 4 stars instead of 5. Otherwise no complaints. On a side note, I had an issue with the delivery of these but Sierra Trading Post sent out a replacement order right away - really great customer service!

Reviewed by AA from San Francisco, CA on Wednesday, February 20, 2013

I just opened the box today--these boots look and feel EXACTLY like I wanted them to. Kind of like a roller skate that fits snugly and comfortably around the ankle and the foot, but with a hollow toe box.

The only problem is that they seem a bit long in the footbed. I am a perfect 6.5, and after walking around the house in them for a few minutes I checked--twice--to see if I had received a 7. There's a wee bit too much room in front of my toe, and the ball of my foot feels like it hits just a little ways back from the spot it's supposed to hit. I will probably order another pair in a 6 and compare them, but I like these well enough to keep them if the other turns out to be too small.