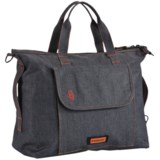 Closeouts. Perfect for shopping trips and daily errands, the Timbuk2 Clipper tote bag is a durable satchel with multiple pockets and a detachable shoulder strap.
Average Rating based on
16
reviews
4.312500
0
5
Reviewed by curtiss from Whitefish, MT on Thursday, February 20, 2014

I did not care for this bag at all. I have always been a fan of Timbuk2, but this bag is not of their usual caliber. It appeared to be just an oversized thin material bag. I was so disappointed in it, I returned it. If you are looking for a plain bag to use to go to the gym or an extra diaper bag, this could be it. However, if you are looking for a multi use daily bag that is stylish and functional, keep looking.

Reviewed by lmc from California on Thursday, February 20, 2014

Well made and perfect for just about everything. Not too small and not overly large. I like the detachable shoulder strap which is a nice feature
if you needed hands free when shopping.

Reviewed by Gardner and dog lover from Michigan on Friday, January 24, 2014

Purchased this to take to a dog show. Roomy and held everything I needed with room to spare. Nice handles to carry and a comfortable shoulder strap.

Reviewed by CO Electician from Fort Collins on Friday, December 20, 2013

Bought this for my wife to carry all her usual purse stuf aswell as a bunch of our child's stuff (bottles, toys, snacks) she loves it!
Plenty of pockets and the fabric is boomproof! Great buy!

Reviewed by SBMW from CA on Wednesday, December 4, 2013

This bag holds a lot and is not fussy in the main compartment - a zip pocket on one side and a few little pockets on the other. The bottom of the bag is roomy so I use the water bottle holder to hold small or fragile items. The brown color is nice and the design simple and modern. The velcro pocket on the outside is very useful, and the velcro is very secure, but the velcro is LOUD when opening that pocket and often catches on sweaters or scarves that I'm wearing. I'd probably prefer a zipper but the velcro is much better than a snap.

Reviewed by Blue Iris from Chicago on Monday, December 2, 2013

Initially I wasn't sure about this bag's styling--I was hoping it would be a casual replacement for a more stylish shoulder bag that had seen better days. After a week car camping with it, I am sold! It holds my small camera, wallet, water bottle , keys and assorted maps and papers with room to spare. Gloves and flashlight are secure in the Velcro outer pocket. Dust and dirt brush off easily. It looks nice enough for dinner in town, but is rugged and the top zip keeps everything secure. I know I will get a lot of use from this bag even when I'm back in the city. I use both the shoulder strap and handles--very versatile bag!

Reviewed by STP Shopper from NC on Thursday, November 28, 2013

I bought this tote when it was available in denim and used it as a purse. It holds a tremendous amount which is why I had to quit using it and downsize for awhile-I was using the shoulder strap and carrying way too much.It is very well-designed, and I'm sure I'll be using it again.

Reviewed by sarah from seattle on Saturday, November 2, 2013

I already wrote a review, but I was still deciding whether to keep it. I love the size of this bag. Large, but not tote bag size. Really glad I kept it! I only wish it was about 1" longer to fit paperwork and a brighter color. I have had so many black bags! Cannot complain for the price! Oh, a zip on the front pocket would make it easier to open. The Velcro is very secure.

Reviewed by sarah from seattle on Thursday, October 3, 2013

I am still deciding whether to keep this or return it. Compared to all 5 of the Timbuk2 bags I have bought this is disappointing. Seems kind of cheesy for the money (again by comparison), but the construction is good. I LOVE the bottle carrier inside the bag, and the short handles on each side of the bag. I have no idea why they are there - why would you want to turn it on it's side? Seem like a great quick grab spot! The top is narrower than the bottom so maybe it will be hard to get things in and out? I was hoping to use it as a smaller briefcase, but papers don't easily fit in the narrower top, so I don't think it will work for that. I am torn on keep or return.......

Reviewed by Lesa from Pittsburgh, PA on Tuesday, October 1, 2013

I used this bag, instead of a purse, for touring England and Ireland. My camera, wallet, snacks, & light jacked rolled up, all fit, with room for purchases. The inside is wide open, with pockets on either side. It is very sturdy and held up to lots of banging around.