Originally created in 1989 by a San Francisco bike messenger named Rob Honeycutt, the Timbuk2 messenger bag is still an iconic example of entrepreneurial spirit and innovation. Easily recognized by the rugged, stylish design, Timbuk2 bags were initially made to order in Honeycutt's basement before the company opened its first shop three years later. Timbuk2's signature three-panel, tri-color design and "Build Your Own Bag" order form first debuted in 1994 and remain extremely popular today. After more than two decades, this brand still constantly evaluates its products for performance, durabil
... Learn more about Timbuk2
ity and environmental impact, ensuring that all Timbuk2 messenger bags, backpacks, laptop bags and accessories are held to the highest possible quality standards. ... Less
About the Timbuk2 Brand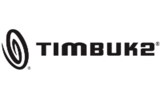 Verified Buyer

Reviewed by SavvyShopper from San Jose, CA on Monday, July 25, 2016

This messenger bag is large purse size. The only drawback is not enough external pockets like the larger bags. The blue/green combo is more muted that pictured which is fine with me.

Verified Buyer

Reviewed by Brannon32 from Vacaville on Tuesday, July 19, 2016

I'm really liking this backpack for the specific reasons that I got it. I ride a motorcycle to work and I can slide my laptop inside and it feels safe and secure. There's a frame on the back that contours to the body and then a mesh piece that lets airflow pass between the backpack and the back. All of this does add some weight, but the backpacks not large enough that it will allow for a ton of storage anyway, thereby capping the weight at a certain point. The materials are quality and I wouldn't fret too much if I got caught out in the rain as the top rolls down to provide a nice seal. The water bottle pocket on the side is deep, so I don't have the issue I have with other backpacks of my coffee mug or water bottle flopping out. I take one star away because the organizers inside are relatively inaccessible because of the small storage capacity.

Verified Buyer

Reviewed by A from MN on Friday, July 15, 2016

This did not fit the first bike I bought this for however it was a loaner bike luckily it fit on my new bike. I love how it is out of the way and will hold my phone, ID and keys.

Verified Buyer

Reviewed by Erin M from Durham NC on Thursday, July 14, 2016

Loved the bag but exchanged it for a small after it arrived.

Verified Buyer

Reviewed by Mr. M from Colorado on Saturday, July 9, 2016

Works great, as expected. Plenty of pockets and pouches. Comfortable and neat looking. Only reason for 4 stars is one of the stitching between two sleeve pockets started coming undone, but not a big deal, and easy to fix.

Verified Buyer

Reviewed by Randall from New Jersey on Thursday, June 23, 2016

This is a well-built brief made from obviously top-notch materials. There are some nice features as well. Basically, if you have a 15" laptop this is going to be a great bag for protecting it in style, with plenty of room for other items. I ended up returning it because I have just a 13" laptop and felt that it was just a bit too big for my needs and not as versatile as I would like for times when I am not using the computer.

Verified Buyer

Reviewed by Fidel from Oakland on Tuesday, June 21, 2016

She loved her Timbuk2 messenger bag. It's easier on her back carrying her macbook around. Its perfect for her 13" inch macbook. It also came with a connection for women that allows them to have the bag go across comfortably. It's worth the price and its probably the cheapest I found on line.

Reviewed by Designer from NYC on Friday, June 10, 2016

Get your own sternum straps I was told even though the photo shows the pack with sternum straps. Backpack a bit too large for a tablet or notebook.

Verified Buyer

Reviewed by Erik from Portland, OR on Thursday, June 9, 2016

I love this bag as a cool backpack to carry my laptop around. Tons of compartments, comfortable and convenient.

However, there is a solid piece of plastic in the back of the pack, which makes it rigid. When I ride with it, the bag doesn't conform to my back. It actually rubbed a spot on my back raw (at one of the middle vertebrae) the other day. I'm a roadie, so maybe this would work better for a more upright positioned rider.

I like Timbuk2 bags and I really wanted to like this one. I associate Timbuk2 with cycling bags, but I've now learned not every bag is designed to be used for cycling.

Overall: Really cool bag, but really disappointed it is so terrible for riding. Aside from that, it's a 5 star bag.

Verified Buyer

Reviewed by Kara from SPb on Tuesday, June 7, 2016

This was much bigger than I expected!