Tin Haul Reviews

Popular Tin Haul Searches
Founded in 2008, Tin Haul western clothing is taking the industry by storm with a fantastic selection of cowboy boots, shirts, jeans and hats that are anything but standard-issue duds. Tin Haul is well-known for crafting slightly edgy, totally fun-loving western apparel for people who aren't afraid to "wear their metal," and Tin Haul boots can frequently be spotted at rodeo events, country and western shows and anywhere people are cutting loose and having fun. Check out Tin Haul shirts, boots and jeans, and add some rockin' country attitude to your wardrobe.
About the Tin Haul Brand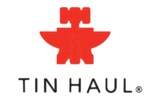 Verified Buyer

Reviewed by KK from Maryland on Monday, January 11, 2016

I love these jeans. I believe I rated them previously. I have gotten them each time for an awesome price. I take the decorative stitching out on the side (it's super easy). I have 4 pair of these.. in 4 different sizes... they DO stretch... I have 4 pair because I've been losing weight... right now I'm a size 4/6 and have the size 26L. They are perfect. I've noticed that the smaller the size, the lower the rise... so my gut does pooch out a little... but for the winter season I'm not too worried about that...

Verified Buyer

Reviewed by Jacki from NYC on Tuesday, January 5, 2016

Nice shirt for warmer weather. It's a very thin fabric. It does seem to lose threads.

Verified Buyer

Reviewed by Tabitha from California on Sunday, December 6, 2015

These are very nice jeans - well made and nice denim and fit true to size. I liked everything about them, except that the rise is too low for me. I would say they are super low rise.

Reviewed by Tim from CO on Thursday, October 29, 2015

Note, the fit on this shirt is ultra trim--I usually wear an XL--and I have a 38 in waist--this shirt was way too snug. Otherwise the fabric was excellent and the tailoring details were very nice.

Verified Buyer

Reviewed by Homemaker in Nevada from Gardnerville, NV on Wednesday, October 28, 2015

If you prefer a snug fit, order a size smaller. I ordered 1-med. and 1-sm. The small fit better. I usually wear a medium. The fabric is 100% cotton & is easy to iron.

Verified Buyer

Reviewed by Antbebo from West Texaz on Sunday, October 18, 2015

I bought one of these for my husband and one for myself. They are very good quality, light jackets.

Verified Buyer

Reviewed by Bekahlynne from Florida on Thursday, October 15, 2015

Great boots & very comfortable. Would order a size up from normal size, they run a bit small.

Verified Buyer

Reviewed by Kick Glide Debbie from Red Lodge, Montana on Monday, October 12, 2015

This shirt is nice enough to wear on Mother's day and any special, special occasion. True fit. Quality good.

Verified Buyer

Reviewed by Jan from Florida on Tuesday, October 6, 2015

Couldn't wear them. Sizes run too small.
Will donate to Goodwill.

Reviewed by Dunpaint from Nevada on Tuesday, October 6, 2015

Such a figure-flattering top. Looks well with a light sweater of jacket.