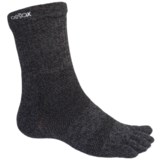 Closeouts. ToeSox's ULTRA Sport ankle socks sport a five-toe design to promote natural toe movement. Plus, a knit of Cocona® Technology fabric accelerates moisture control to keep your feet feeling fresh.
Average Rating based on
34
reviews
4.676470
0
5
Reviewed by lostinmontana from Montana on Monday, February 3, 2014

I was not so sure I would like these, so ordered only one pair. Turns out that I LOVE them!! Very comfy for all day on my feet at work. I would have loved to have ordered another pair, but it looks as though they are sold out.

Reviewed by tammylee61 from Charlotte, North Carolina on Monday, December 2, 2013

I bought so many of these. They were a gr8 value and not only that they are high quality socks. I have rheumatoid arthritis and it helps to keep my toes

aligned properly. Now that I have been wearing toe socks I don't like wearing regular socks. Buy them you won't regret it.

Reviewed by Shopping for bargains from San Carlos, CA on Wednesday, November 13, 2013

The XS fits a youth shoe size 3-4. These midweight socks are very soft and comfortable. They were purchased for everyday wear with regular sneakers/shoes. These would be a little thick to try and wear with 5 toed shoes.

Reviewed by hiker from FL from FL on Wednesday, November 13, 2013

I wear a 5.5 and the XS fits perfectly and they are so comfortable. I wore them with sandals on an overnight kayak-camping trip (in the camp ground with temperature around the upper 40's). They were warm, comfy and fun!

Reviewed by HikerGirl from New Mexico on Friday, October 11, 2013

On a recommendation of a friend, I tried ToeSox for hiking. There is no "getting used" to them, they are comfortable right away. I have narrow feet, so I can wear another pair of regular hiking socks over the ToeSox.

Reviewed by Keith from Marin County, California on Monday, October 7, 2013

My 7-year old even wears these with her flip flops. Loves them.

Reviewed by bunion runner from PA. on Friday, October 4, 2013

Best, especially for those with problem feet...bunions, hammertoes, etc. My other foot approves too!

Reviewed by Mela from Hawaii on Thursday, September 19, 2013

Got a small pair for my 9-year old who thinks they are the coolest thing. All the 4th-graders now think he's the coolest thing. They fit well and are comfortable for him. The only problem is: it's hard to keep your feet in your shoes when you can show off your wiggly toes with socks like these. If they make it to Christmas without getting holes, it will be a miracle.

Reviewed by zorrospal from Dakotas on Thursday, April 18, 2013

these are "hands" down the best socks I have ever put on my feet. They keep my feet dry all day and my arches are not as fatigued. my old crushed pinky toe is painless when I wear these socks. These socks may not fit in shoes that are already too tight for your toes. Get rid of the shoes and keep these socks!

Reviewed by MGee from San Jose on Thursday, April 11, 2013

These socks are great. This is the first time I have purchased them and make my toes feel warm and fuzzy. My kids love them because they say it makes their toes more happier. I purchase a few more and will be giving some to my friend. If you are looking for a thick sock, these are not the ones. They are more on the thiner side which is o.k. with me. I think if it were thicker, my feet would be too hot and uncomfortable.