Topo Athletic

Sizes

Style

Gender

Colors

Events

Prices

Search Within
Topo Athletic is a design-driven footwear brand that makes minimalist running shoes and cross-training shoes that are designed to amplify the body's natural biomechanics. By incorporating an anatomic shape with a zero-drop or minimal-drop platform, Topo Athletic shoes are a superb choice for neutral runners who favor a midfoot or forefoot strike. Along with a wider toe box and neutral platform, select Topo Athletic running shoes and cross trainers also feature a unique split-toe design that helps increase toe flex and promote grip. Give your feet a natural advantage with Topo Athletic shoes an
... Learn more about Topo Athletic
d take your running experience to new heights. ... Less
About the Topo Athletic Brand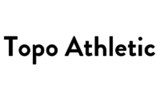 Compare at $100.00
Closeouts
Compare at $100.00
Closeouts
Compare at $110.00
Closeouts
Verified Buyer

Reviewed by kaniele03 from Savannah on Tuesday, July 28, 2015

I have very wide feet, and Topo is only company that makes a toe box wide enough to support my feet for various purposes. This is my third Topo purchase, and I highly recommend it to those with wide feet or suffering from bunions. It's a must.

Verified Buyer

Reviewed by Martin from Prague on Wednesday, July 22, 2015

Great shoes with quite flexible sole but not very minimal (at least when comparing to Merrel Trail Glove, NB Minimus atc.). I don't know, why there there very fine and see-through mesh parts on the outer side of the shoe. I would prefer using the other type of mesh on whole shoe (like it is done in Runventure). Fit is nice with wide enough forefoot but order half size bigger shoes than you normally wear.

Verified Buyer

Reviewed by frogpod from planet earth on Tuesday, July 14, 2015

This is a nice light shoe. I would not run trails in this shoe, but it is good for walking, going to the gym, and casual activities. Very breathable, quality materials, and a surprising amount of cushion from a minimal shoe. It has a wide toe box, which is great if you need the space. I like shoes with a square toe box, and this one has it. Also has a good heel cup, and very decent cushion from the sole. Minimal arch support. The quick-cinch laces are easy, but don't provide much snugness around the ball of the foot.
Receive email updates for new Topo Athletic items