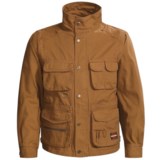 Closeouts. If hard work is your profession, then lets just call the Pro Premium duck utility jacket from Tough Duck your business suit, packed with pockets for tools, constructed with rugged 10 oz. cotton duck and designed to last.
Abrasion-resistant 10 oz. cotton duck construction
Snag and abrasion resistant
Mesh-lined inner body for comfort
Zip-off sleeves store in zip compartment at lower back
Button storm closure
10 outer pockets for maximum storage
Side tool loops
Pencil pockets
Two interior chest pockets
Adjustable touch-fasten waist tabs
Right zipper pull
Length: 28-½"
Weight: 3 lb. 12 oz.
Fabric: Cotton
Fabric weight: 10 oz.
Lining: Polyester upper body and sleeves; cotton lower body
Care: Machine wash/dry
Made in China.
Average Rating based on
15
reviews
4.333333
0
5
Reviewed by Lamont Cranston from Northern CA on Friday, April 6, 2012

I was looking for a sturdy, canvas chore coat to replace a favorite one, that I lost. Some were too light weight, others didn't fit right. When I unpacked this jacket, I would have sworn that the pockets had weights in them. The material seems heavier than the 10oz., in the description. This is not a light weight jacket in any sense of the words. I can't imagine what would tear this jacket. The number, and size of the pockets will be a bit of a challenge to figure out how to use efficienly. The fit is good for layering, yet not so large that I couldn't wear it by itself over a single shirt. I am 6', 205lb and I am long in the torso. This jacket did not come down so far as to making it impractical to use as a vest. This jacket may not be for everyone. Some may find it too heavy and the number and location of the pockets, awkward. For me, it was what I was looking for, and I will make it work for me.

Best Uses: Casual Wear, Hiking and Camping, Work wear
Chest Size: Feels true to size
Cons: Heavy, Lots of metal rings
Describe Yourself: Avid Adventurer
Fit: Feels true to size
Pros: Durable, Versatile, Windproof
Sleeve Length: Feels true to length
Was this a gift?: No

Verified Buyer

Reviewed by Gus from Lyndon, KS on Wednesday, March 14, 2012

My coat is a size too large for me, but that is not a fault of the coat. It will be fine when layering. It has (to me) the definite feel of the U.S. Army field jacket that was issued back in the 50's, the same fluffy, lots of storage & inner liner accepting garment. In fact I plan to use an old 50's era liner in my Tough Duck. ps. your work chaps are winners too. Use em every day.

Best Uses: Cold Weather, Extreme Conditions, Wet Weather
Chest Size: Feels too big
Cons: Poor Fit
Describe Yourself: Casual/ Recreational
Fit: Feels too big
Pros: Comfortable, Windproof
Sleeve Length: Feels too long
Was this a gift?: No

Verified Buyer

Reviewed by Milret from Conroe, Texas on Monday, February 20, 2012

Primarily got this jacket for my camping and kayaking adventures. Plenty of pockets to keep track of the million little things I carry along.
With adequate layers underneath should do just fine in the winter and sleeves off in the summer.

Best Uses: Hiking and Camping
Chest Size: Feels true to size
Cons: Heavy
Describe Yourself: Avid Adventurer
Fit: Feels true to size
Pros: Breathable, Comfortable, Durable, Warm, Waterproof, Windproof
Sleeve Length: Feels true to length
Was this a gift?: No

Verified Buyer

Reviewed by tw from Laveen, Arizona on Friday, January 20, 2012

Good rugged jacket for around the barn, garage, or yard. The pockets are great for carrying tools, etc.

Best Uses: Casual Wear
Chest Size: Feels true to size
Describe Yourself: Casual/ Recreational
Fit: Feels true to size
Pros: Comfortable, Durable, Lightweight
Sleeve Length: Feels true to length
Was this a gift?: No

Verified Buyer

Reviewed by Wells from Cincinnati, Ohio on Thursday, December 22, 2011

The fit on this jacket seems quite loose. It's fine for an outer layer in a cold layering system. But you really need to bulk up to get it to fit well. Or you can buy the next size down. Love all the pockets but even that goes a little overboard.Not real warm by itself but a very nice outer shell.

Best Uses: Work wear
Chest Size: Feels too big
Cons: Doesn't Breathe, Not very warm, Poor Fit
Describe Yourself: Casual/ Recreational
Fit: Feels too big
Pros: Durable, Lightweight, Waterproof, Windproof
Sleeve Length: Feels true to length
Was this a gift?: No

Verified Buyer

Reviewed by cold from bottineau, nd on Thursday, November 17, 2011

kind of heavy, took a look at other jackets has the cargo pockets that what i wanted

Best Uses: farm work
Chest Size: Feels true to size
Cons: Heavy
Describe Yourself: Casual/ Recreational
Fit: Feels true to size
Sleeve Length: Feels true to length
Was this a gift?: No

Verified Buyer

Reviewed by 2tallpaul from Louisville, KY on Saturday, October 1, 2011

Need to make a size for short arms in Large size and extra large

Best Uses: Cold Weather
Chest Size: Feels true to size
Describe Yourself: Casual/ Recreational
Fit: Feels true to size
Pros: Warm, Windproof
Sleeve Length: Feels too long
Was this a gift?: No

Reviewed by golfer3524 from San Bernardino, CA on Thursday, May 5, 2011

Somebody's humor..."TOUCH" duck? LOL. I'm a fan of canvas apparel, and this one is nice. The fit, in L, is perfect for my 5'11" 200lb. frame. The sateen lining in the arms make it feel very good there. Like it should. Some guys may not like that with the arms off, this qualifies it as a "vest". On me, once I found my waist, it hangs about 10" below the top of my belt. A bit long, I think for a vest. I'm OK with that, and I do like the "disarmed" feature. The hanging inside pockets at the bottom, (shown in the pic.)are a mystery to me. The expansion gusset is 1 1/2" deep, so they could really be filled with large things. Rocks? And each is connected by HD snaps. It'll be a challenge to locate stuff with all those pockets. It's all good. It wouldn't be very warm in a colder climate, so layering will be a must as there is no insulation built in. Works for me.

Best Uses: Casual Wear
Chest Size: Feels true to size
Describe Yourself: Casual/ Recreational
Fit: Feels true to size
Pros: Breathable, Comfortable
Sleeve Length: Feels true to length
Was this a gift?: No

Verified Buyer

Reviewed by hikingnut from South Australia Australia on Thursday, April 14, 2011

Hunting fanatics will love this Jacket.10 pockets in the front,2 additional pouches on the back inside of the Jacket plus internal pockets! The tool loops and steel D rings enable one to add Molle pouches to Jacket to carry Ammo, water bottle,flashlight,etc instead of hiking with a Backpack. Major flaw is that its heavy when compared to other technical ones(polartec fleece) and not waterproof!Hence breath-ability also not good so B4 use, apply Nikwax cotton proof to make it water resistant.Weight can be reduced by turning it into a vest with zip-off sleeves. Finally, it may be too big in the chest region for some but I like it that way for warmth layering.Good investment when discounted.

Best Uses: Cold Weather, Hiking and Camping, HuntingOutdoor work
Chest Size: Feels true to size
Cons: Doesn't Breathe, Heavy, not waterproof, Pricey, Too big for some
Describe Yourself: Casual/ Recreational
Fit: Feels true to size
Pros: Attachment friendly, Comfortable, Durable, Versatile, Warm
Sleeve Length: Feels true to length
Was this a gift?: No

Verified Buyer

Reviewed by Firedog260 from Long Island NY on Monday, January 31, 2011

Great work jacket.Plenty of storage.The snaps on the wrists are a little annoying,they could chafe if you have a short sleeve shirt on underneath

Best Uses: Hiking and Camping
Chest Size: Feels too big
Describe Yourself: Avid Adventurer
Fit: Feels too big
Pros: Breathable, Comfortable, Durable, Feels big but you can wea, Lightweight
Sleeve Length: Feels true to length
Was this a gift?: No