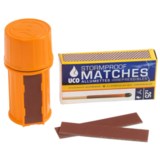 Closeouts. UCO's Stormproof matches are a must-have in any camping ruck or emergency kit with its waterproof plastic case and 100 stormproof matches.
Average Rating based on
24
reviews
4.583333
0
5
Verified Buyer

Reviewed by Meritlane from La,Ca on Thursday, November 13, 2014

I buy these at the outdoor store for more $, these are same quality and the case is top notch protection against water. Weatherproof matches are great. Once struck they cannot be extinguished. Kind of like those gags candles. If you play with them inside they will surely stink up your house for hours.

Verified Buyer

Reviewed by Hiker @ heart. from Colorado on Tuesday, October 28, 2014

I was impressed with what I received all together. All in all it works for me.

Verified Buyer

Reviewed by Mountain Monkey from Utah on Thursday, October 16, 2014

Have a striker strip on the side of the bottle, I LOVE that. I hate fiddling around and worrying that I am going to lose my striker strip when it has to be loose in the bottle. It comes with 100 like it says, the case is a little bulky but light enough and seems durable. They don't burn as crazy as some other ones I have used, but they burn well enough!

Reviewed by Hiking Wombat from Missouri on Monday, August 4, 2014

Pros: The matches are waterproof and do work well. The case is waterproof and is great for keeping cotton or other tinder dry.
Cons: The matches will not fit in the case!!!!!!

Really! I bought four of these around Christmas as great idea for my kids. Imagine the surprise when the matches didn't fit. Improvised as do "waterproof " matches really need a waterproof case?

I still recommend these as the product still has value. Just be aware of the lack of fit!

Verified Buyer

Reviewed by iHike from Las Vegas, NV on Tuesday, July 22, 2014

The matches are packaged in separate four packs, so they can be put in various places plus your waterproof container. Nice gift and a keeper for the family as well!

Verified Buyer

Reviewed by jofmif from Arlington, VA on Monday, June 30, 2014

the matches do the job, container seems to be waterproof as promised

Verified Buyer

Reviewed by Wayne the farmer from Montana on Thursday, June 26, 2014

These matches are really awesome. The work in the wind, burn hot, and long. They are particularly handy when lighting stoves that "lair up", as they have a long stick.

Verified Buyer

Reviewed by FireHawkC3100 from Riverside County, cA on Tuesday, June 17, 2014

Like these matches. They work. They are waterproof. The carrier although a tight fit works well.

Verified Buyer

Reviewed by Carnaiton Rider from Washington on Tuesday, June 10, 2014

I bought these waterproof matches as I thought they were a good value and I am putting together the "Ten Essentials" for my hiking pack. So I have not used them as yet but I am pleased with my purchase...I gave them four stars simply because I have not tried the matches yet...so cannot vouch for how well they perform.

Reviewed by Prof. Goz from South Lake Tahoe, NV on Sunday, March 23, 2014

If/when you need these, you will thank God that you have them. 100% success rate: they never fail to light. GREAT value for price.